« Page 3
|
Page 5 »
The Test Rig:

Intel E8400 @ 3.00GHz
XFX 680i LT motherboard
BFG 8800 GTS 512MB Video card
Thermaltake Toughpower 850W Cable Management ESA
Patriot Extreme Performance Viper PC2-8500 DDR2 Memory
2 Western Digital Caviar SE16 250GB Hard Drives
Logitech Desktop Wave Keyboard/ Mouse Combo
Dell 22″ Widescreen LCD Monitor
Windows Vista 32bit SP1 w/Current Updates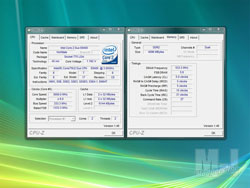 Here we have a screenshot of the stock settings on the test rig with CPU-Z. Upon first boot, it did come up at 800MHz speeds with a voltage of 1.8V. After manually setting the appropriate speeds, I ran the system for a few hours to verify that everything was performing up to par.
     I will be using a few comparison modules in this review. The first is OCZ's SLI-Ready PC2-6400 2GB memory, the second is Corsair's XMS2 PC2-6400 2GB memory, and the last will be OCZ's Reaper HPC PC2-8500 4GB memory. We will be using Sandra Lite V 2009.1.15.42, Cinebench R10, 3D Mark Vantage, Super-Pi Mod1.5, Team Fortress 2, and Call Of Duty 4 to test each of the modules at different frequencies. The E8400 is rated at 1333MHz FSB @ 3.0 GHz out of the box. Our sample has been tested to over 4.2 GHz on air with previous configurations. To keep things on a level playing filed. I will simply back the stock multiplier down to 8X from 9X. I will then manually set the FSB it to 375×8 which will put me back at the 3.0GHz mark. I will then adjust the memory accordingly from 800MHz up until I find its maximum stable frequency. Each of the tests will be ran three times and then the average of those three runs will be recorded.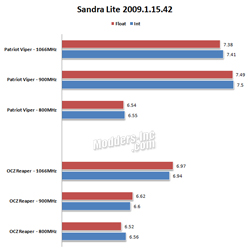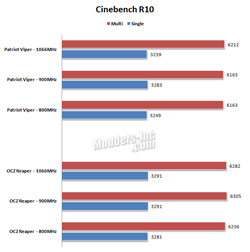 First up we ran the memory bandwidth test in Sandra Lite. Looking at the first graph we see that the Patriot Viper modules came in just slightly ahead the OCZ Reapers @ 900Mhz and 1066MHz. This does not necessarily mean your going to see any major performance gains overall. While looking at the second graph we see that the OCZ Reapers have a slight lead in the Cinebench CPU tests.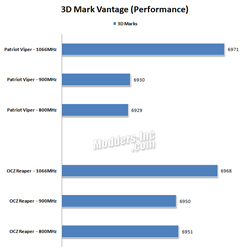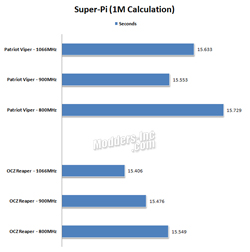 In 3D Mark Vantage we see that the Patriot Vipers pull a slight lead, while trailing in the lower frequencies. Keep in mind this is only a 42 point spread and could easily fluctuate either direction with another set of tests. In Super-Pi we see the OCZ Reapers achieving a slight advantage at all frequencies. With the numbers being so close, we really aren't going to see any advantages either way in the OS performance.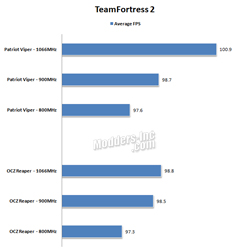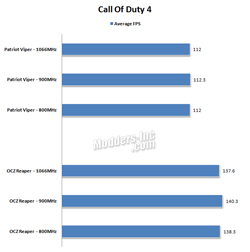 The time demos in TF2 show the Patriot Vipers pulling just a few FPS higher, while in Call Of Duty 4 we see the OCZ modules getting better than a 22 frame lead on the Vipers. With the FPS being in the 100 range, I really don't think to many people will actually notice the difference in FPS.
     From running both setups over a period of a couple of weeks. I was unable to differentiate between which modules where installed. They both seemed to perform equally overall, which brings me to the only thing that did show a noticeable difference, overclocking. The OCZ Reapers are capable of 1090MHz on the current test setup, granted that's not anything hardcore. It is better than what I was able to achieve on the Patriot Vipers. I pulled a maximum overclock of 1070 MHz before things became unstable. With suck a minimal overclock, I really didn't think there was even a need to run the tests again. It's not going to reflect hardly anything in the test scores.