CPU Cooler
Phanteks First AIO Cooling Solution Glacier One 240 MP
Old concept with a new solution
Closer Look at Phanteks Glacier One 240 MP »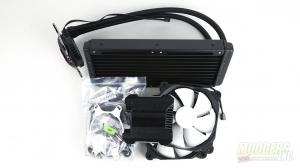 Throwing together a computer for kids or maybe a gaming pc for a friend? No matter what you are planning to build you should always keep in mind CPU cooling. Air coolers work very well however, liquid coolers offer better cooling overall so, you might want to consider an All In One cooling system or a custom water-cooling loop. Custom water-cooling loops have been around for a long time and not cheap. By the time you purchase all of the parts to cool your CPU, you might be looking at north of 300 dollars. And let's not forget the maintenance that is associated with the custom water-cooling loops. All In One cooling kits are much cheaper than the custom loops and require little or no maintenance for an extremely long time. In my opinion, All In One cooling or AIO systems are the best bang for the buck. If you like the "Set it and forget it" idea then that's the way to go. My review sample today comes from our friends at Phanteks. They were generous enough to provide me with their First All In One cooling solution, Glacier One 240 MP. Phanteks has some nice designs on its cases and accessories plus they have a full line of custom loop parts and seeing Glacier One AIO cooling solution really peaks my attention. The Glacier One 240 MP is based on the 240 mm radiator with silent/high-pressure fans which provide great airflow and cooling at low speeds. Three additional models are part of Glacier One; 240 MPH, 280 MP, and 360 MP. Each of these models is designed to provide great cooling for whatever configuration you might need.
The packaging of Glacier One 240 MP is very white and bright. You can see all of the information about the Glacier One 240 MP right on the front of the box. And if is the specs that you are after you can find additional information on the back of the box. Glacier One 240 MP supports both Intel and AMD sockets all the way to 2066 and sTRX4 Threadripper.
Internal components are neatly stored inside of the box in a recycled tray. What I found very appealing is a simple "Thank you" card from Phanteks in the front of the components. If you would like to share your builds with Glacier One you can do it ay @Phanteks (Facebook) and #Phanteks (Instagram).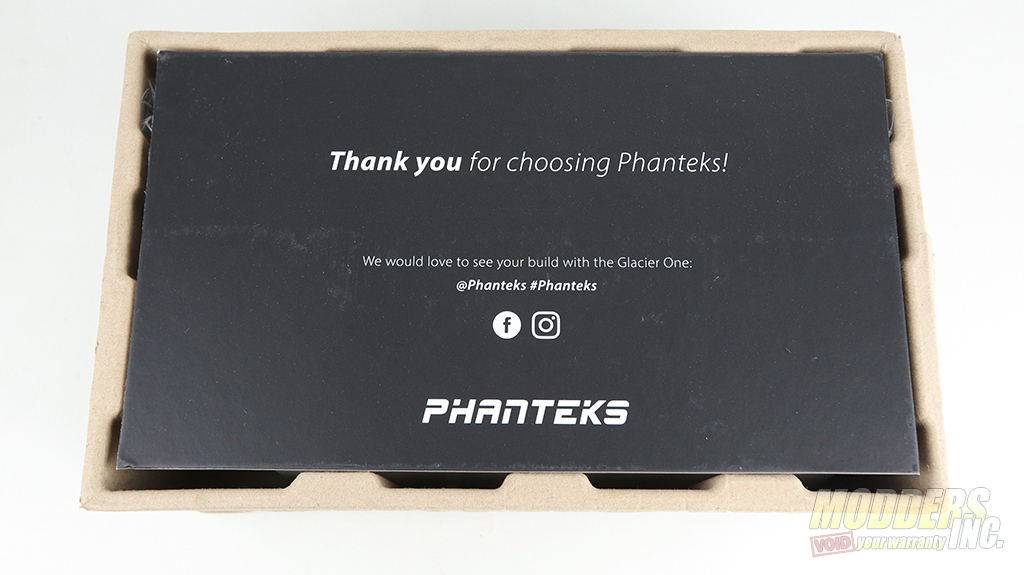 The included manual in this box covers all of the other models are well. I strongly recommend looking this over once before installing this cooler into your system.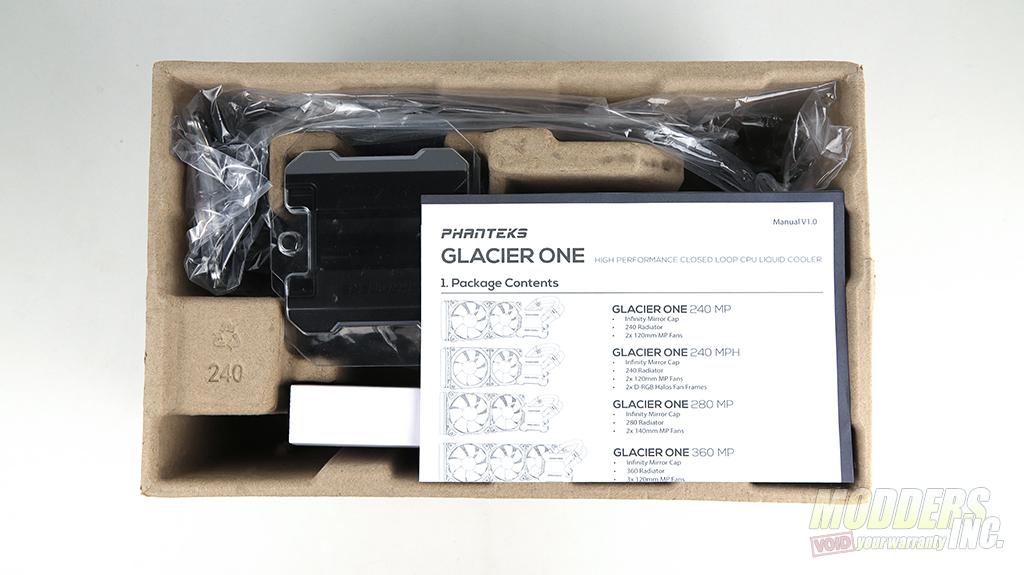 All of the components were neatly wrapped in a plastic bag or protected via a cardboard box to protect against any accidental scratches.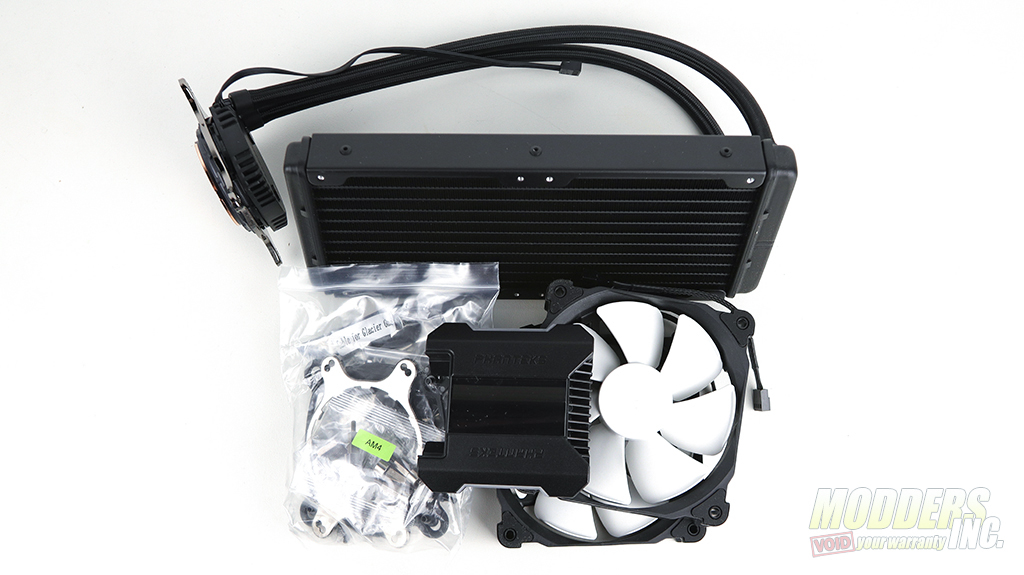 Technical Specifications
Model No:
PH-GO240MP_DBK
UPC Code:
886523701521
Socket compatibility:
Intel Socket LGA 115x, 1200, 1366, 2011, 2011-3, 2066
AMD Socket
AM4,sTRX4*,TR4* (Threadripper bracket included with CPU)
Net Weight:
1.15 kg
Warranty:
6 Years
Radiator
Dimension:
272 mm x 120 mm x 27 mm / 10.7 in x 4.7 in x 1.1 in
Tube
Length:
400 mm
INFINITY MIRROR CAP
D-RGB type
3-PIN Digital-RGB LED strip (5v, data, Ground)
120 MP FANS
Dimension
120 mm x 120 mm x 25 mm / 4.7 in x 4.7 in x 0.98 in
PWM:
Yes (4-Pin fan connector)
Input Power:
1.8W
Speed:
500-2200

+

10% RPM
Max.Airflow:
0.17-3.41 mm-H20
Noise Level:
18-34.2 dB(A)
Cable Length
130mm Daisy-Chain + 500mm extension cable
INCLUDED ACCESSORIES
4-Pin PWM Splitter Cable, 2x 80mm
4-Pin Fan PWM Extension Cable,
500mm
3-Pin D-RGB Motherboard adapter, 600mm
3 x Tube Clips
PH-NDC Thermal Compound