« Page 2
|
Page 4 »
Installation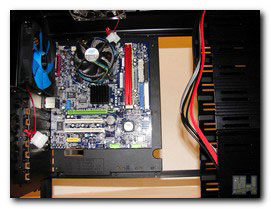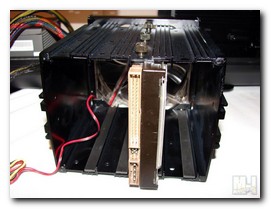 Installation was pretty much straight forward, if you have installed a system before then you should have no problems installing one in the Raidmax Monster. First I installed the, previously mentioned, larger than normal stand-offs and then proceeded to install a micro atx motherboard in the monster. Fitment was on the mark as everything lined up correctly. As you can see, the Raidmax Monster offers plenty of space for your system, with plenty of forward space between the drive bays and the motherboard tray, as well as ample space for a full ATX system. In fact one might say, for a mid tower case, it is monstrous inside.
  Next, I installed my hard drive into one of the removable hdd cages. I used the provided thumb screws to lock the hard drive in place. The holes drilled into the hdd cage are placed just right to keep the hard drives from touching the 120mm Blue LED intake fans.
Note: Because the hard drives are mounted vertically instead of the normal horizontal position, you must remove the hdd cages to install the hard drives properly.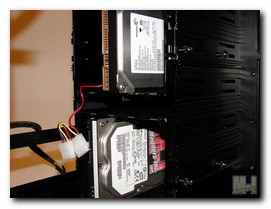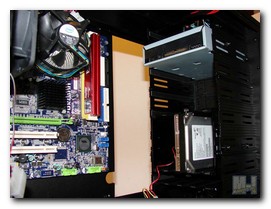 After installing one hard drive I decided to install a second hard drive for demonstrative purposes. Because I was installing two hard drives, I placed one in each cage and then re-installed the hdd cages with the new drives installed. When using a setup that places an exhaust fan in front of a hard drive, I like to install my hard drives as close to the center of the cage as I can. This should allow plenty of air flow around the hard drive and be the least restrictive.
  Next, I proceeded to install my optical drive. I simply removed the front drive bay covers and inserted my optical drive into one of the drive bay slots. Once the front of the drive is matched up to the bezel/front panel, just tighten the optical drive down with the provided screws.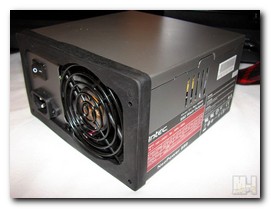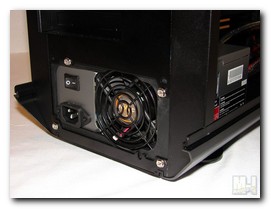 After installing the drives, I installed the provided PSU gasket onto the power supply and then installed the power supply into the Raidmax Monster. In all, the complete installation was as simple as you could want.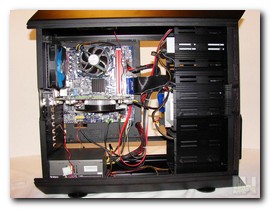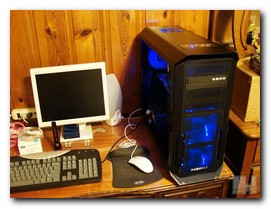 With the installation pretty much complete, the only real issue I had with the install itself was the cable management or lack there of. With the system up and running the 120mm Blue LED fans light the case up very well, and are moving the air through the chassis nicely.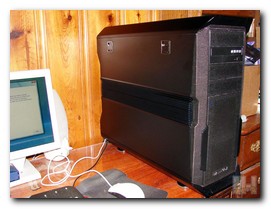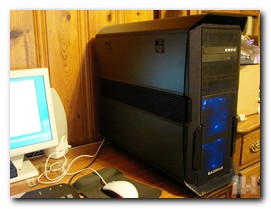 Finally, after making sure everything was completed and working properly, I re-installed the side panel. And here we have a couple of shots of the Raidmax Monster, all buttoned up after the completed build.