« Page 4
Conclusion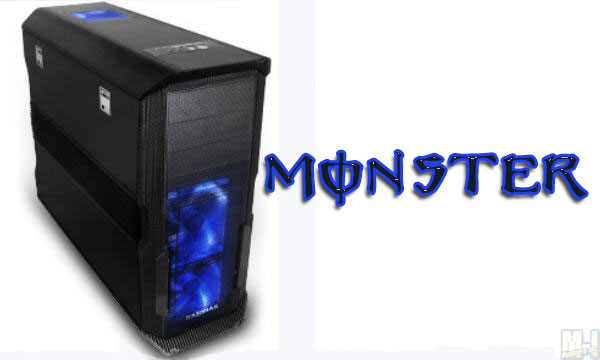 Overall, my experience with the Monster was a good one, in fact it just may be one of their best cases. Being an all aluminum case makes the Monster a nice light case. The case has a nice design to it, and along with the Matte black exterior finish gives it a sleek look. Actually the Matte black finish can be found throughout the interior of the case as well, which gives it that nice "attention to detail" professional look.
  While the Monster's interior has a decent layout, it really isn't a new "never seen before" design layout. I do have to say that it is certainly a step in the right direction, which with a few improvements over time, could become very nice indeed.
  The system installation in the Monster wasn't any trouble at all. The motherboard lined up well with the standoff locations, as well as with the I/O shield. The lack of a tool-less design honestly didn't add more than a few extra minutes to the complete installation, and in fact I rather prefer securing my drives and daughter cards with screws.
  Even though the Raidmax Monster has decent airflow, it could be improved by simply adding higher CMF fans. Why didn't they include this already you ask, … simply put, a lot of people prefer a quieter system and adding high RPM / high CFM fans would increase the noise factor considerably. However, the included fans in the Monster do a good job of moving air quietly and should be sufficient for all but the most demanding of systems.
  Personally, I thought the Monster's original price of $199 smackers was a tad high. However, it can be currently found for around $169 (at the time of the review) and with a rebate even lower than that, which makes the Monster a bit more attractive price wise.
  While the Raidmax Monster is only a mid tower chassis and no monster by any means in stature, it can be said that it has the capability to hold a monster of a system. Not only that, but I'd have to say the Raidmax Monster has "Monstrous" potential. But as for the name, … does it deserve the name Monster? Well, I leave that for you to decide.
Pros

---

Cons

---

All aluminum construction
Decent airflow
Liquid cooling ready
Spacious interior
Removable HDD cages
Matte Black finish throughout
Sleek yet aggressive styling
Bottom mounted psu
Cheap punch out expansion slots
Lack of a decent cable management system
Side panels could bow/bend outward
Sharps edges … especially front outside edge