PC Power Supply
RAIDMAX Thunder Pro Series RX-1000AE 80 Plus Gold PSU Overview
« Page 4
 IN THE BUILD and RESULTS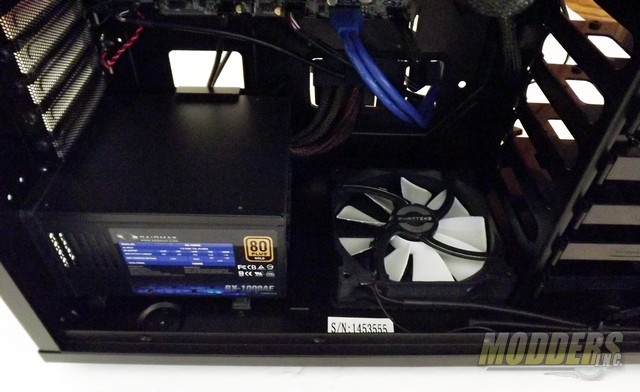 In this build this small footprint 1000W PSU allows the builder space on the floor to keep a 140mm fan.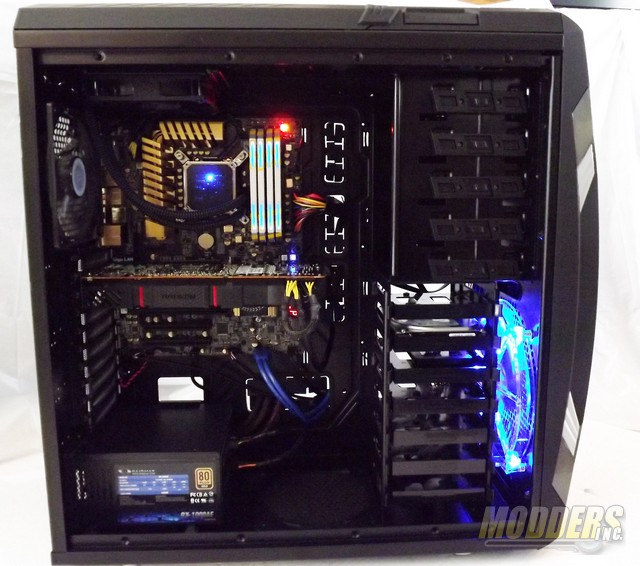 Though the PSU fits well giving 1000W in such a small size the cables are lengthy with plenty for routing around the case and good cable management. One note is the unsleeved exposed portion of the wires at the 24pin and GPU connectors and back at the PSU connectors. I would of liked to see full sleeves for a better look.
What I liked about this PSU is it's power to size ratio. 6 1/2″ for a multi rail 1000W PSU is an accomplishment. Modular cable design, 80 Plus Gold rating, dedicated PCI-E and lengthy cables.
I think a few improvements could be made like complete sleeve and heatshrink. Un-labeled heatshrink and for looks and at least a Raidmax LOGO sticker the builder could overlay the PSU side panel label for a custom look. I'd also like to see a longer warranty than just 1 year.
At the time of publishing this I found this unit for $179 at 10 online stores with 1 year warranties.
Nice features, big power small size, good components, thoughtful design and performance at a reasonable price.
[sc:recommended_hardware_award ]