« Page 3 | Page 5 »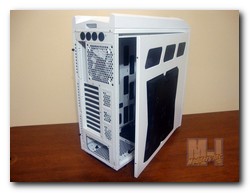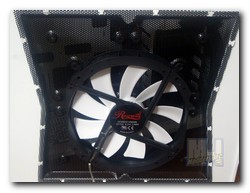 Moving to the interior of the case is as simple as removing the two thumb screws at the rear of the side panel and swinging the panel outwards a few inches before simply removing it from its hinge point. Note there is not an actual hinge. 
   Now we finally get to get a good look at the huge 230mm intake fan Rosewill has pre-installed in the THOR V2-W side panel utilizing rubber grommets to help silence vibration noise. These 230mm fans are supposed to move about 110cfm of air. However, Rosewill has not limited you to the 230mm fan, if you so desire you can use any combination of up to four of the provided pre-grommeted 120mm fan mounting locations on the side panel vent.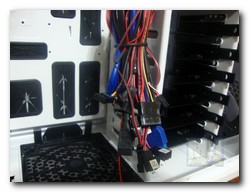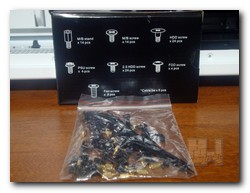 After removing the side panel the first thing that caught my eye was the mass of wiring and cables. This I know can be a bit intimidating to a novice at computer building or just making a case switch, but do not let it get you down as really it was not a big deal. Let's see if I can get them all named, the cables and wiring attached to the case already are as follows: 
Front Panel Connectors for Power, Reset & HDD LED
3 x 3 Pin Fan Connectors for Fan Speed Controller A
3 x 3 Pin Fan Connectors for Fan Speed Controller B
1 x 20 pin USB 3.0 motherboard connector
1 x 4/2 Pin Molex Female Connector for fan Power (only 2 pins but connects to standard 4 pin molex)
1 x 4/2 Pin Molex Female Connector for LED Power (only 2 pins but connects to standard 4 pin molex)
HD Audio / AC'97 Audio Cable for front panel audio
   Next we pull out the accessory box. Here I was greeted with a nice looking box to describe each screw inside, however every single screw was in on big bag. Now, this may not seem a big deal, but having to dig through almost 100 black screws to find the correct screw you need is quite a pain to me. However, I did so and found all the screws I needed. It just took more time than I am used to since most companies separate their screws into smaller bags.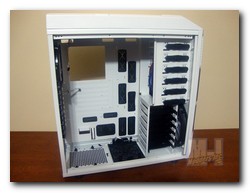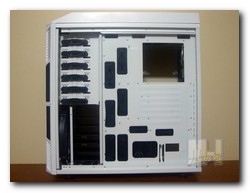 Taking a step back and looking at the inside of the Rosewill THOR V2-W gives you an idea of just how roomy this case is inside. The white accented with black is carried through to the inside as well. There are nine grommeted cable management holes that should take care of almost any wiring and cable issues you may come upon. The backside of the motherboard tray also has several tie spots to help with your cable and wire management as well.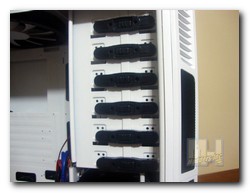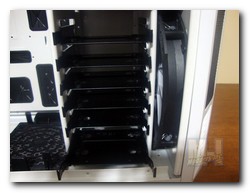 Looking to the drive bay (6 total bays) area you can see that there is a tool-less option for adding your optical drives. However, if you look closely you will also see that you can screw the drives into place by using the provided screw holes above each tool-less locking mechanism. The tool-less mechanism works very easily, by simply pushing in and forward to lock your drive into place. 
   Moving down to the 6 HDD trays, we see that they are metal and slide out easily by depressing the spring steel clips on each side of the trays. Here you can add a combination of up to six 3.5″ or 2.5″ HDD/SSD. Note that these are not tool-less, as you must fasten the HDD/SSD to the tray via the provided HDD and SSD screws. The 3.5″ HDD drives will have a grommet and special screw to reduce vibration, while the 2.5″ drives will not since most people using 2.5″ drives in a desktop are using SSD drives.