« Page 4
|
Page 6 »
Interior: Impressions continued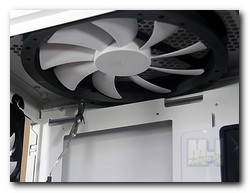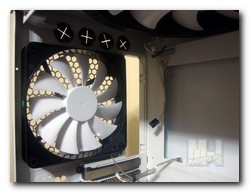 Looking deeper inside the case, up top we can see the huge 230mm pre-installed fan Rosewill added to the THOR V2-W for top exhaust. Down and just a tad to the back we can also see that Rosewill added a pre-installed 140mm fan for rear exhaust to the THOR V2-W. 
  
   Now you are not stuck with this configuration for the top fan or the rear fan as Rosewill pre-drilled the case for 2 x 120/140mm fans as well. Also the rear fan can be replaced with a 120mm fan. Not to mention the fact that there is room for a water cooling setup if you remove the fans. So, you see the Rosewill THOR V2-W is set up for almost any scenario.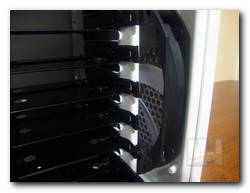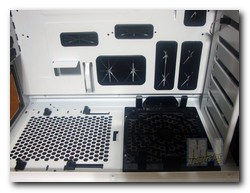 Just as in the rest of the case up front we see yet a 3rd 230mm fan, this one being a White LEDfan. This fan can also be replaced with either a 140mm or 120mm fan if you so desire. 
   In the bottom of the case we the rubber PSU mounting pads and also take note of the foam pad around the PSU opening. There is also a bottom fan mount available to mount either a 140mm or 120mm fan as well.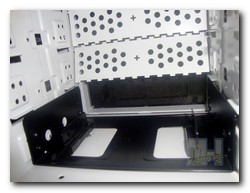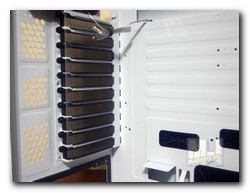 Inside the lowest drive bay we find the 3.5″ conversion mount, which is made of metal. This mount can be used to mount anything from a floppy drive to a media card reader. 
   At the back of the case we get an inside look at the 10 expansions slots which are ventilated utilizing wire mesh. We can also see the 3 outside ventilation (honeycomb shaped) areas which will help with your tri and quad SLI setup's ventilation. Some may call it overkill, but with the heat today's SLI setups can produce, I say the more ventilation the better.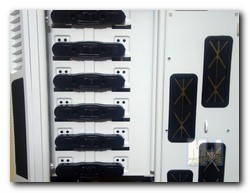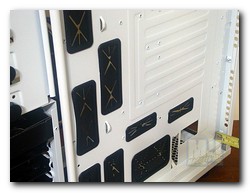 On the reverse side of the case, unlike some tool-less designs I have used, we see that Rosewill utilized the same tool-less locking mechanisms for the optical drives. You can also see a couple of the tie off spots for the cable management here as well. Worth noting here is the fact that there is right at 1″ of clearance between the motherboard tray and the rear side panel. Also, you can see the ventilation holes for the rear of the motherboard tray running up the backside of the case.