Page 2 »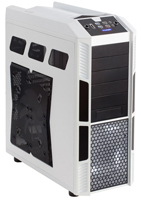 We will be taking a look at the Rosewill THOR V2-W, the white edition of Rosewill's THOR V2 full tower computer case. As you may know, Rosewill is a Newegg house brand and puts out many different computer related products. Products that vary from Power Supplies, Laptop Coolers, Computer Cases, Fans and even Wireless adapters just to name a few. I have to say I really like the looks of the THOR V2-W and I am ready to see just what it has to offer. So, let's get down to it, shall we.
[hr]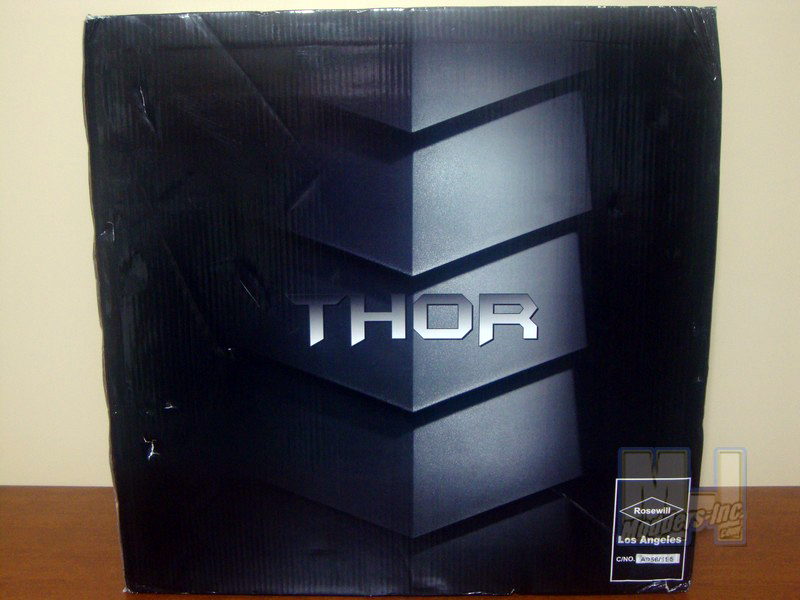 The Rosewill Thor V2-W came in a tastefully designed black box with the Rosewill logo in the bottom corner and a picture of the Black Thor V2 case top with a large THOR script in silver grey. Other than that the retail box was minimalistic in what it had to offer other than the model number information on the sides, with no specifications. However, Rosewill packed the THOR V2-W well, as I found it to be double boxed.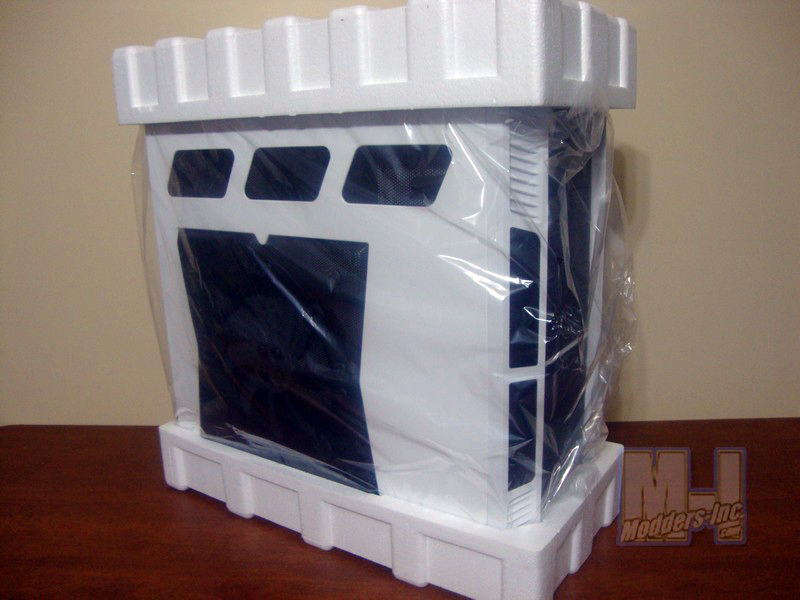 Once removed from the second box we see that the Rosewill THOR V2-W is wrapped in a plastic bag to protect the finish and is also encased between two heavy Styrofoam end pieces to keep the THOR V2-W from being damaged in transit. 
Features:
Supports up to an XL-ATX Motherboard (13.5" x 10.3")
10 expansion slots
Gaming type – Allow to swing top fins to increase air flow
Front 230mm White LED fan is equipped with LED on/off switch
Full black interior Support up to 330mm(12.99″) video card
Advanced cable management design
Advanced Cooling System:
-Front 1x 230mm White LED Fan (pre-installed)
-Rear 1x 140mm Fan (pre-installed)
-Top 1x 230mm Fan (pre-installed) or 2x 120/140mm Fan (option)
-Side 1x 230mm Fan (pre-installed) or 4x 120mm Fan (option)
-Bottom 1x 120 – 140mm Fan (option)
Top mounted Power and Reset buttons
Top mounted dual fan speed control knobs supports up to 6 fans.
Top mounted IO ports – 2x USB 3.0, 1x e-SATA, 2x USB 2.0, Audio out, MIC in
Screw-less design for 5.25" Devices & semi Screw-less 3.5" HDDs
Easy to remove/install front 5.25" bay covers
HDD trays support 3.5" or 2.5" HDD/SSD
Easy-clean PSU filter
Advanced Bottom-Mounted PSU Design 
Specifications:
 Brand
 Rosewill
 Model
 THOR V2-W
 Type 
 ATX Full Tower 
 Color
 White
 Case Material 
 SECC Steel
 Power Supply Mount
 Bottom 
 Motherboard Compatibility
 Micro ATX, ATX, E-ATX, XL-ATX
 Side Panel Window
 No – (has wire mesh vented side 
 panel with a 230mm intake fan pre-installed)
 External 5.25″ Bays
 6
 External 3.5″ Bays
 1
 Internal 3.5″ /2.5″ Bays
 6
 Expansion Slots
 10
 Front Header controls and ports
  Power button
  Reset button
  2x USB 3.0 
  1x eSATA
  2x USB 2.0 
  Audio Jacks (AC97 / HD)
  2x Fan Speed Control Knobs
 Side Air Duct
 No
 140mm Fans (pre-installed)
 1x Rear
 230mm Fans (pre-installed)
 1x Front White LED with on/off switch
 1x Top
 1x Side
 Dimensions (LxWxH)
 21.89″ x 9.14″ x 22.84″ (W/ Bezel) 
 Weight
 30.42lbs