« Page 6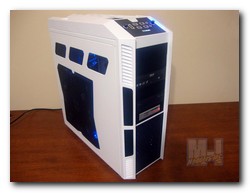 I must say that the Rosewill THOR V2-W really took me by surprise. This is indeed a much better built case than I had imagined. To be honest I found very little to complain about with this case. No sharp corners, neither the metal or the plastic on this case seemed to be flimsy what so ever. It had fantastic cable management potential and more ventilation than one could ask for. The pre-installed fans were also a big plus for the money. Let the use just switch their system over and not have to worry about fans. The THOR V2-W color scheme work exceptional well throughout the case.
   The only minor issues I had with the THOR V2-W are as follows. First, I would have personally preferred a windowed side panel, but even that is no big deal since I am a case modder. Second, the accessory bag should have had the different screws etc in separate little bags, that was really kind of a pain. And last, the pins sliding out of the connectors was a pain (which was probably an isolated incident), as I had to go back and find then to fix the problem with the fan controllers. 
   All in all, I would have to say that for the money the Rosewill THOR V2-W is the best bang for the buck in my mind for a full tower 10 expansion slot case. Yep, the Rosewill THOR V2-W ROCKS!  
Pros

---

Cons

---

Solidly Built Chassis
4 – pre-installed fans (3 x 230mm – 1 x 140mm)
2 – Fan Speed Controllers on Front I/O Panel
6 – 5.25″ Optical Drive Bays (one converts to 3.5″) 
6 – HDD/SSD Trays
Excellent Cable Management
Rounded Edges
Huge Space to work with inside the case
Plenty of ventilation 
Not Very Loud at Full Fan Speed
Innovative Top Vents and Front Bay Cover Lock
Nicely Laid Out I/O Panel Includes USB 2.0 and 3.0
Semi Tool-less
Affordable Price
Accessories all mixed in one bag
Possible issue with loose connector pins