« Packaging and Specifications
|
Hardware Installation and Clearance Issues »
The dimensions of WolfAlloy are approximately 18x8x19 (inches) with front bezel included. As I have mentioned earlier, this case is pretty much completely black with in exception of the front bezel which seems to have a wolf's claw print. The construction of the case is based on SPCC steel which makes this case pretty light, however somewhat fragile. It would be easy to put a dent in this case, so you have to be careful.
The window is a little bit tinted so if you do have any lighting inside of the case, you won't get the glare from inside. The front bezel is made from what seems to be ABS plastic. It is durable and light. In the back of the WolfAlloy we have eight expansion slots with two set of holes for water cooling tubing, one on the top and one on the right side of the case.
The front bezel offers two USB 3.0, two USB 2.0 ports, headphone and microphone jacks along with reset and power buttons. There are only two external bays in Wolf Alloy. Both of which offer screw less mounting of the 5.25″ devices.
The front graphic of the wolfs claw is an actual cut out in the case. On the back of the claw, Rosewill uses a colored mesh filter. The left and right side doors are made from SPCC as well. The edges are folded in for more solid contact with the frame. The left side window could be removed and replaced if needed or if you need to remove with to paint the case.
Skeleton structure of WolfAlloy is very much standard. Frame sides are interlocked together and are held by double tacks. With doors removed case is pretty sturdy and does not appear to have any structural issues.
WolfAlloy comes with a set of cooling fans. The top fan is 140mm and the rear fan is 120mm. There is not anything special about these fans. It is also worth to mention that it is possible to mount 240mm radiator on the top of the case for liquid cooling.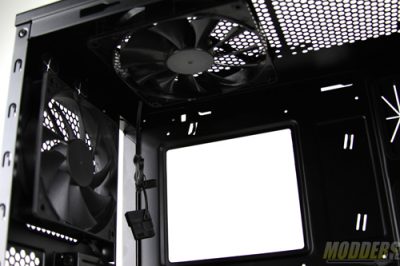 Cable management in this case has a lot to offer. If you want to keep everything nice and neat then you should look for cable management solutions in the case. This case has cable management holes with rubber in a form of a star. This star design will keep your cables secure. In addition to pretty good cable management, motherboard tray has a window so that installation of custom CPU coolers would not require you to remove a whole motherboard. We see this feature in pretty much every case now.
The front bezel also could be removed on demand. Behind the front bezel are two orange led fans that pull air in to the case. These fans are removable as well and could be replaced if needed. What I like here is that the fans are attached to a moving door and not just screwed in.
The bottom of the case offers removable filter and two sets of plastic/rubber feet.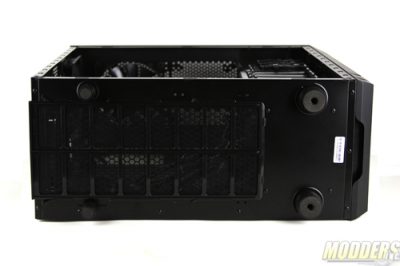 It is worth to mention that the front and rear feet are a bit different in design. The front feet are a little wider so they cover more volume on the surface, making case more stable in the front than in the back. My guess for having smaller feet in the back is that there wasn't enough room for a wide feet due to large filter.
There are eight internal 3.5″ trays for your hard drive needs. There are no dedicated 2.5″ trays however each 3.5″ tray could be used to mount 2.5″ drives. Mounting 3.5″ drives requires no screws.