Misc PC Items
Silverstone ES02-USB 2.4GHz Wireless PC Remote Control Kit Review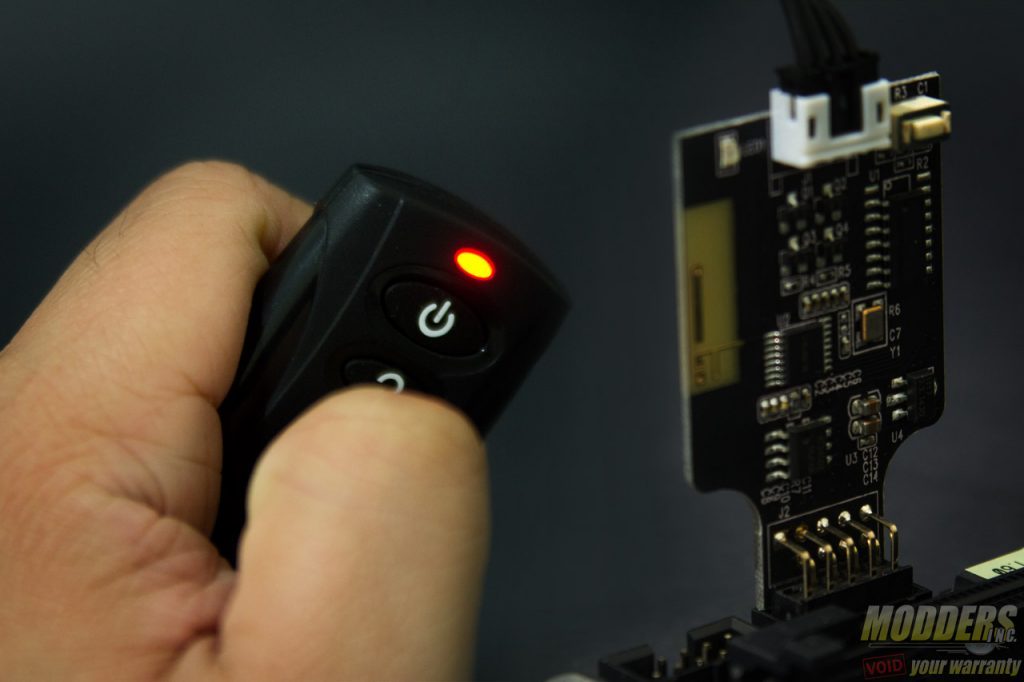 SilverStone might be well known mostly as a case manufacturer, but their product line extends to smaller items as well, offering solutions that might be often overlooked by other companies. The Silverstone ES02-USB for example, is a 2.4GHz PC remote control kit that allows users to turn their PC on or off and even reset it from a few meters away. This is a sort of an upgrade of their previously released ES01 remote control kit which installed via PCIe expansion slot since the ES02 installs on a USB port and takes up less space. That also makes it a good tool to use for pranks since it is easy to conceal. For more practical scenarios where the system is hidden from view (such as an HTPC) and the power/reset button is harder to reach, the SilverStone ES02-USB is a handy little addition.
The Silverstone ES02-USB 2.4GHz Wireless PC Remote Control Kit comes in a simple thin retail package box similar to the ES01 although now in black. It contains the handheld remote switch, receiver, break-out adapter, Y-cables for front IO, CR2032 battery and small screw driver. A quick installation/user guide sheet is also included.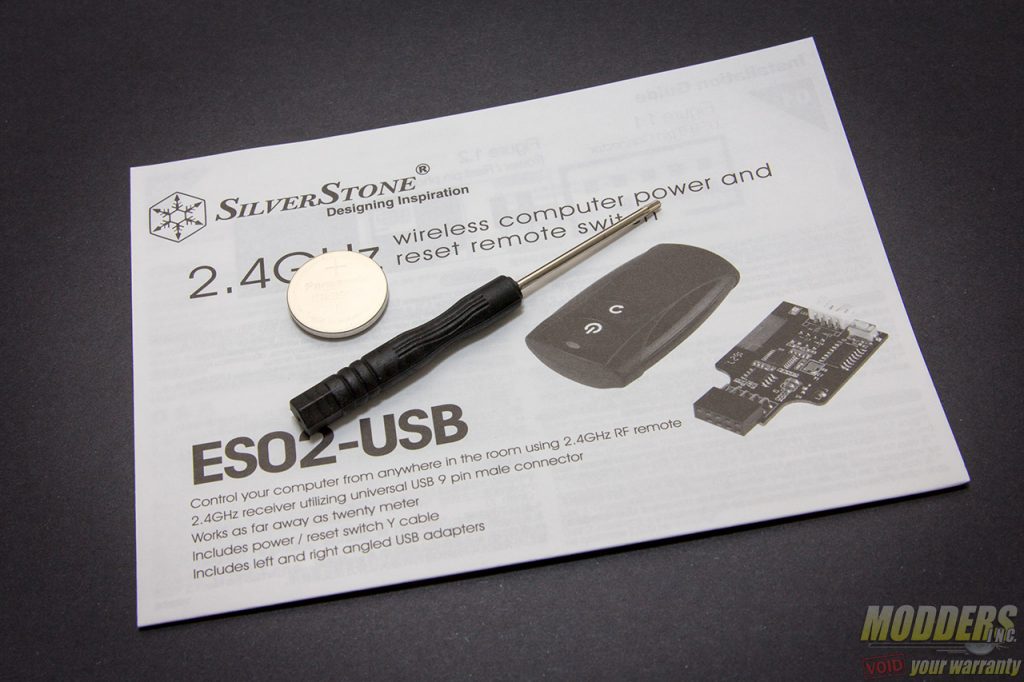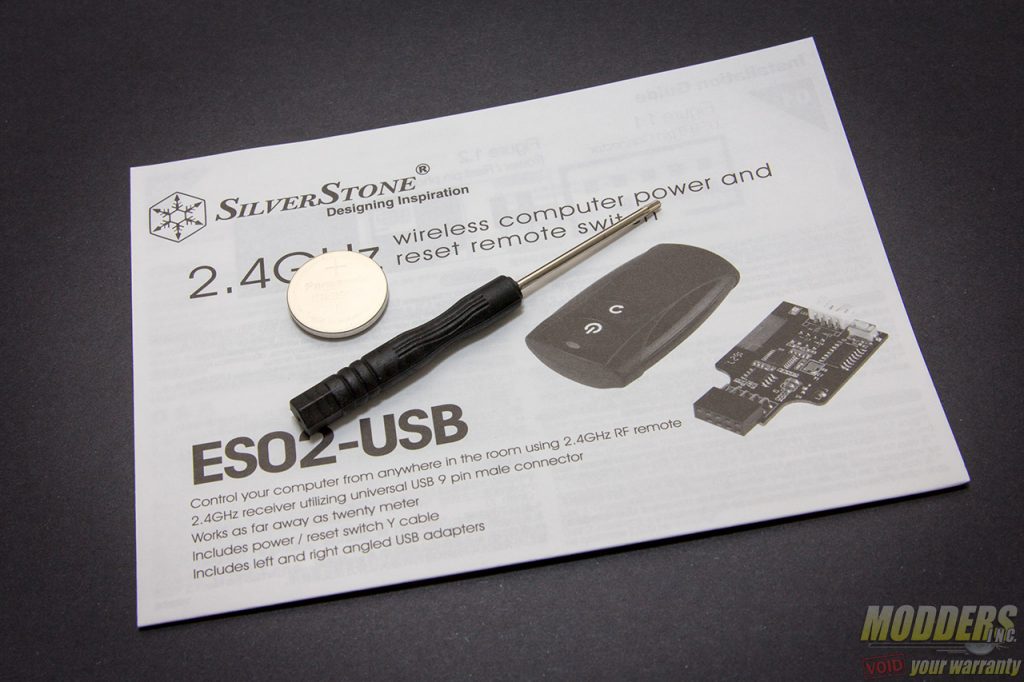 Model No.
SST-ES02-USB
Adapter card
Adapter form factor
USB 2.0 9 pin male connector x 1
Operation frequency
2.4GHz
EIRP
3.76dBm (Measured max.)
Operating range
20 meter (Free space)
Environment
Operating temperature : 0℃~40℃ (32℉~104℉)
Storage temperature : -40℃~70℃ (-40℉~158℉)
Operating humidity : 10%~90% non-condensing
Storage humidity : 5%~90% non-condensing
Net Weight
30g
Dimension
30mm (W) x 10mm (H) x 60mm (D)
Remote control
Operation frequency
2.4GHz
EIRP
3.76dBm (Measured max)
Operating range
20 meter (Free space)
Battery type
CR2032 (Lithium manganese button battery)
Nominal voltage
DC 3.0V
Battery environment
Operating temperature : -20℃~70℃ (-4℉~158℉)
Storage temperature : 10℃~40℃(50℉~104℉)
Setup and installation is fairly straight forward with ES02-USB requiring the user to plug-in the receiver into an available 9-pin USB header (for power) and attaching the Y-cables for front IO passthrough so that the regular power button on the case still works while providing the power and reset functionality for the ES02-USB.
For tighter spaces, a breakout adapter is included so that users can install the receiver in three different directions other than straight forward. This is especially handy for modders building a system where the tolerances are right.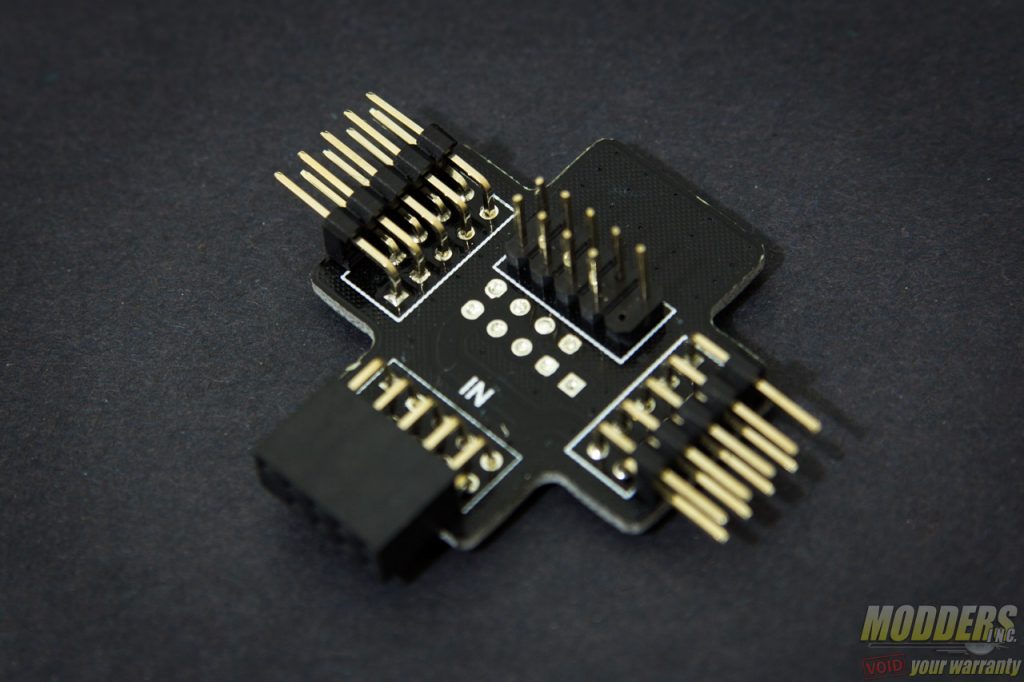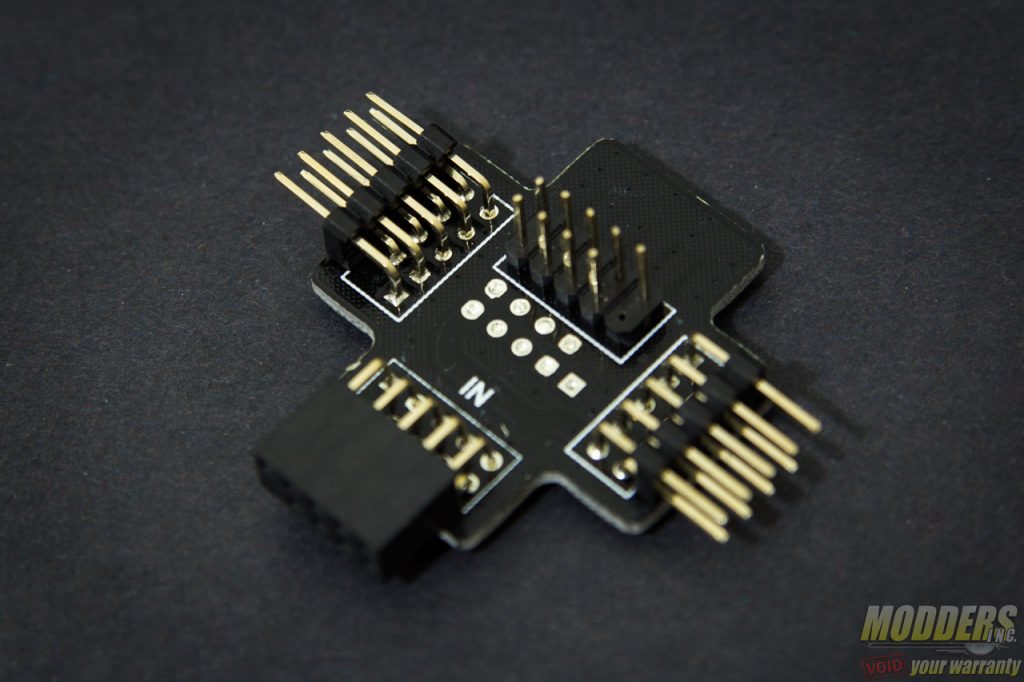 After the receiver is secured to the motherboard with a standby power and all the front panel IO cables are plugged in, place the CR2032 battery inside the remote control transmitter device. Use the included screw driver to open up the remote transmitter. This remote controller uses 2.4GHz RF signal and should work up to 20 feet in an unobstructed room. There is an LED indicator that notifies the user of the battery life and as long as the light is on, the remote control is ready to transmit the power on/off or reset command to the PC the receiver is attached to.
It sounds like a simple device but it works very well and is extremely handy for DIY PCs in more secure or out of reach environments. I have a custom HTPC for example which I have in the living room but tucked behind and out of view. I have it attached to my router and I use wake-on LAN when I need to start using it. If the system freezes or crashes however, I have to move the shelf, disconnect some cables, and reach in to physically power off or reset the system. With the SilverStone ES02-USB however, this becomes a very simple, single click exercise.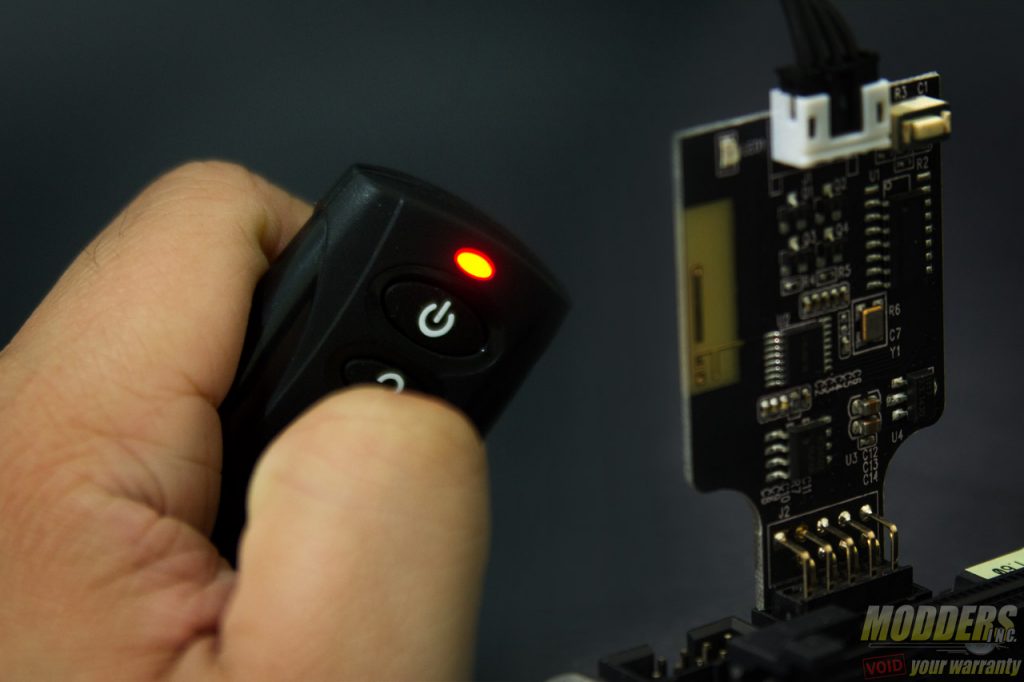 The inclusion of the adapter is a nice considerate touch from SilverStone as some setups can really use it, especially inside custom cases. The battery is also included for the remote, so it is ready to be used out of the box. It is priced $5 more than the PCIe-based Silverstone SST-ES01 remote control switch at $24.99 vs $19.99 but the convenience is more than worth it.