« Full System Build
We have finally come back around to the question from the start of this review.  Does the LD03 live up to its looks?  I think the answer is yes, for the right person.  At over $100, the LD03 is not a cheap case, but there isn't really anything else like it.  The dark, angular glass makes this case the most elegant tempered glass case I have seen so far.  The open chassis is easy to disassemble and easy to work in.  The way the case fits together demonstrates a clear vision and excellent attention to detail.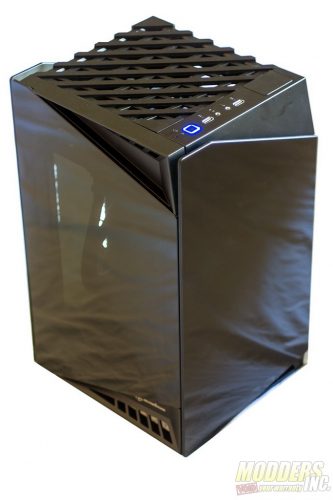 Here are my top points for and against the Silverstone LD03:
| | |
| --- | --- |
| Pros: | Cons: |
| Elegant angular styling | Cable management is lacking |
| High airflow rotated layout | Somewhat expensive |
| Excellent GPU compatibility | Chassis powder coating could be nicer |
| Easy to disassemble and reassemble | Plastic pop rivets are not as secure as thumb screws |
This case has given me plenty of reasons to love it, but it isn't for everyone.  If you are on a tight budget, there are cheaper options that offer similar hardware compatibility and comparable fit and finish.  If you are a total novice and don't know how to properly manage cables, you may struggle to make the inside of the LD03 look clean.  Anyone considering heavy overclocking should look elsewhere.  While the LD03 has excellent airflow for a tempered glass case, two 120mm radiators simply are not enough to handle modern overclocked hardware.  And finally, those looking to create a tiny and ultra-portable ITX system are not likely to find the LD03's 11-pound dry weight and 16-inch height appealing.
On the flip side, if you want to show off the top of the line hardware in a case that looks unlike anything else on the market the Silverstone Lucid LD03 is worth serious consideration.  If you love RGB bling and long for nothing more than to make your system light up like a small Christmas tree, the LD03 gives you three large glass panels through which to showcase your love of light.  If you are a modder or water-cooling enthusiast looking for a fairly small case that doesn't feel cramped to work in, the LD03 offers not only a spacious frame but also the ability to remove nearly every panel of the case without having to drill out a single rivet.  For those of you that are looking to make your computer into a work of art, the Silverstone Lucid LD03 is worth your time.