Network Hardware
Synology MR2200ac Mesh Router Review: First WPA3-Certified Wi-Fi Router
First WPA3-Certified Wi-Fi Router
« Setup Wizard
|
Final Thoughts »
Testing Methodology
System Configuration I
CPU
Intel I7-7700K @4.2GHz
Motherboard
Asus STRIX Z270I Gaming
Ram
G.Skill F4-2400C15-8GTZR DDR4-2132
GPU
EVGA GTX 1080 SE
Hard Drives
Samsung 850 EVO 256gb SSD
Network Cards
Onboard Qualcomm Atheros QCA61x4A Driver 12.0.0.722
Power Supply
Thermal Take Toughpower RGB 750W44
System Configuration II (Acer Predator 300)
CPU
Intel I7-7700HQ @ 2.8GHz
Motherboard
KBL Sienta_KLS
Ram
Micron 8ATF1G64HZ-2G2B1 DDR4-2400
GPU
Gigabyte Radeon R9 290
Hard Drives
Hynix HFS256G39TND-N210A 256GB SATA M.2
Network Cards
Onboard Qualcomm Atheros QCA61x4A Driver 12.0.0.722
Power Supply
Onboard
Network Layout
In this review of the MR2200ac, I wanted to step away from our conventional testing and concentrate on to the real-life scenarios.
Software
All testing is done based off of System I and II and Internet.
To test Synology RT2600ac Performance between System I and II, I have used Lan Speed Test toolkit. Lan Speed Test is a benchmarking tool which allows testing of upstream and downstream connections. Server software was installed on System I and client software was installed on System II.
First set of tests were performed with MR2200ac connected into the network via ethernet cable.
Ethernet Connection to the RT2600ac
WiFi Transmitter (5GHz)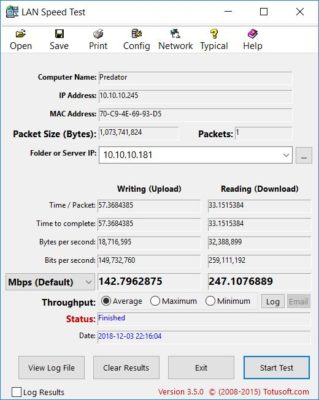 Performing the benchmark with a single stream yield about 142Mbps write and 247 Mbps read from the laptop.
WiFi Transmitter (5GHz) multi-stream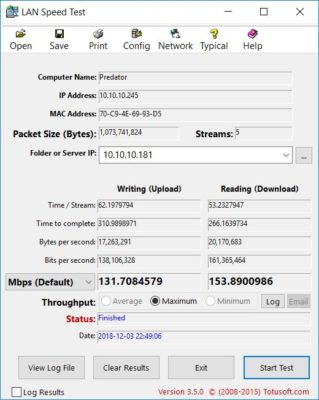 While looking at the multi-stream (5 streams) benchmark I saw maximum write speed of 131Mbps and 153Mbps read from the laptop.
The next set of benchmarks were running from the system closest to MR2200ac. MR2200ac was connected RT2600ac wirelessly.
Wireless Connection to the RT2600ac
WiFi Transmitter (5GHz)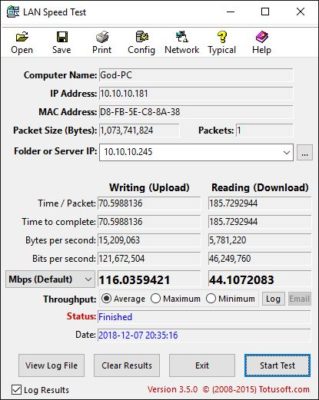 While connected wirelessly to RT2600ac from MR2200ac in the single stream benchmarks I saw an average write speed of 116Mbps and 44Mbps read speed.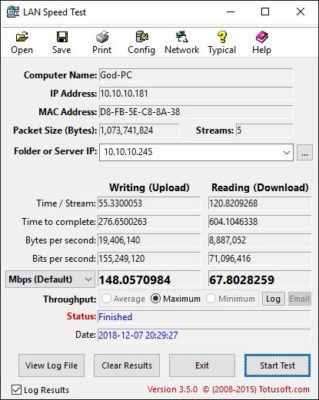 In the multi-stream benchmarks I saw speeds as high as 148Mbps while writing and 67Mbps while reading from the client closest to the MR220ac.
Following are speed tests to the internet.
5GHz MR2200ac WiFi to RT2600ac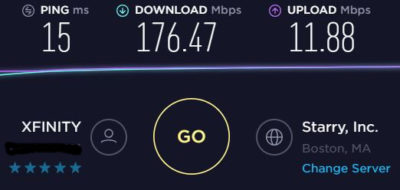 5GHz MR2200ac wired to RT2600ac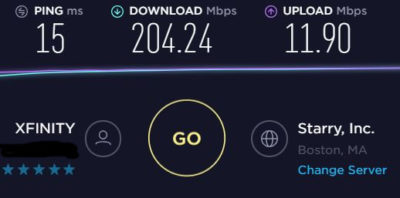 Gigabit Connection directly into RT2600ac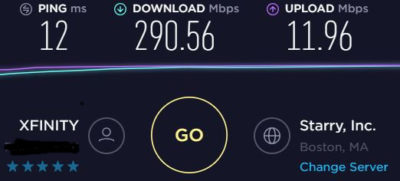 My Comcast speed is 300/10 Mbps.