Network Hardware
Synology MR2200ac Mesh Router Review: First WPA3-Certified Wi-Fi Router
First WPA3-Certified Wi-Fi Router
« Packaging and Specifications
|
PCB and Chips »
A Closer Look at the Synology MR2200AC
The MR2200ac approximate dimensions are 15 x 18 x 7 cm or 6 x 7 x 3 inches. Entire enclose weight .5Kg or 1Lb.
Construction of the MR2200ac is ABS plastic with multiple ventilation holes on the back of the unit. There are 3 LEDs in the front of the device that show activity and strength of the signal to the home base or to the next mesh router.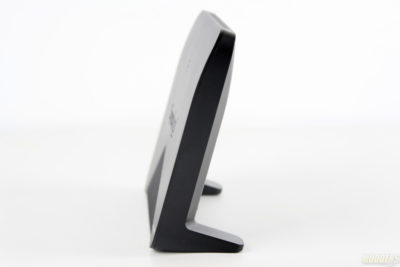 The operational orientation of MR2200ac could be laying down or standing up. When the device is in the standing position it is very solid and does not easily move.
On the back of the router, there is a single USB 3.0 connector, WPS button, WiFi Switch, LAN and WAN ports, Power connector, Power button and a reset pinhole for resetting the device to factory defaults.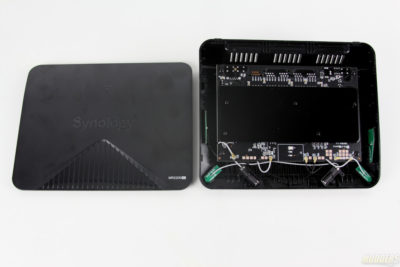 When I opened MR2200ac I quickly realized what was contributing to the weight of the device. On both sides of the PCB board, I found solid 3mm heatsinks which cool CPU and other internal components.