Network Hardware
Synology MR2200ac Mesh Router Review: First WPA3-Certified Wi-Fi Router
First WPA3-Certified Wi-Fi Router
« Closer Look at the Synology MR2200AC
|
Setup Wizard »
PCB and Chips
Before going over PCB and chips found I would like to mention that MR2200ac is powered by Qualcomm IPQ4019 Quad Core 717MHz CPU. We do not usually see these types of CPUs on mesh routers. (Low core speed)
In addition, MR2200ac has 256 MB of DDR3 RAM which should be plenty to perform all of the data relaying in mesh mode or standalone routing mode.
This device has Tri-band WiFi up to 2.2Gbps, 2×2 MU-MIMO and supports beamforming. Also, the MR2200ac supports 802.11k/v and r standards for Seamless roaming.
Under the hood, I found a total of 3 pairs of antennae. (5GHz-1, 2 and 2.4Ghz). As I progressed further into my evaluation, I discovered that it is possible to run two separate 5GHz networks (available only with a compatible router and mesh router).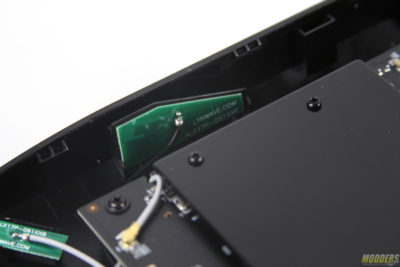 Two pairs of antennae were simply attached to small PCB boards and one pair has cylindrical aluminum housing.
As I have mentioned earlier, most of the weight of MR2200ac comes from two 3mm aluminum heat sinks which are attached to each side of the PCB board.
Unfortunately, most of the components are encased in the aluminum cages which are grounded by the solder on to the PCB board itself. Removing these cages are beyond our scope today. While exploring the PCB board I found numerous over fluxed spots. They pose no threat to the system and should be considered only as informational.
The antennae which supports 5GHz has a cylindrical head which is made from rolled steel. The heat shrink keeps the two cylinders together.
Here are some of the chips that I was able to identify on MR2200AC PCB.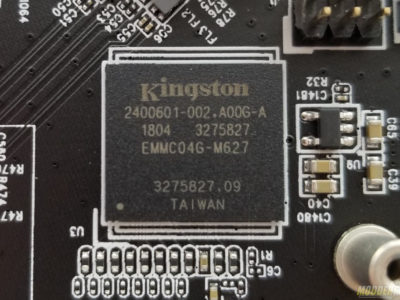 Flash memory (4GB) is provided by Kingston.(EMMC04G04G-M627)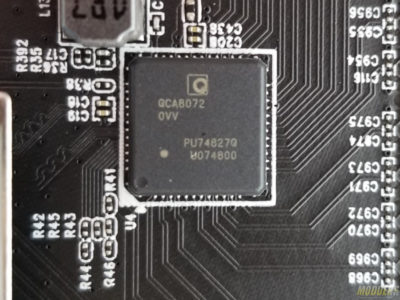 Dual Gigabit Ethernet controller is provided by Codico.(QCA8072) We don't usually see German components in US markets however with recent events with China I feel that we are going to be seeing more and more products from Europe and Asia.