« Intro
|
Page 3 »
A Closer Look
X-Finity 800 Watt PSU with Active PFC
The sizzling new X-Finity 800W APFC PSU delivers the perfect combination of stability and continuous power while also utilizing Ultra's award-winning FlexForce cabling system for improved airflow and aesthetics. This new X-Finity 800W includes Active PFC (power factor correction) and is housed in a sturdy black anodized aluminum housing. The X-Finity's components are cooled by two 80MM fans.
Ultra's specially engineered FlexForce cable design promotes easy cable management and 30% better airflow than ordinary cables by allowing easy cable routing under the motherboard, behind drive bays… anywhere that gets typically unsightly power supply cables out of the way of airflow.


What is FlexForce?

 

Manageable – FlexForce Cables are designed to be easily routed and hidden within your case.
Increased Airflow – Special design promotes easy cable management and 30% better airflow than ordinary cables by easily routing cable under the motherboard, behind drive bays, etc.
Design – Cables are dressed in a sleek looking titanium like finish.

What is AST (After Spin Technology)?

After Spin Technology is used to quiet the system and aid in prolonging the life of your components. Connectors for chassis fans are thermostatically controlled; RPM's are reduced when temperatures inside the case are low. PSU, chassis and CPU fan connectors remain spinning several minutes after the PC is powered down allowing the system to gradually cool down after use.
Output
AC INPUT
115V/230V 10A/6A 60/50Hz
MAX OUTPUT
CURRENT
+5V
+3.3V
+12V1
+12v2
+12v3
+12v4
-12V
+5VSB
30A
30A
20A
20A
20A
20A
0.5A
3A
800W
Max
Combined
Watts
160W
660W
6W
15W
780W
21 W
800W
Total Output Power:
800W (Full Load, Nominal Input Voltage)
Efficiency:
78% Typical at Full Load and Nominal Input Voltage
Input
AC Input Voltage: Automatic Full Range (100-240 VAC)
AC Input Frequency: 50-60Hz
AC Input Currents: 
· 12A (RMS) at 115VAC input
· 8A (RMS) at 230VAC input
Connectors Available
1 – 20/24 Pin Motherboard Connector
8 – 4 Pin Molex Connectors
2 – 4 Pin Floppy Power Connectors
2 – PCI Express Connectors
4 – SATA Connectors
1 – 8 Pin EPS Connector / 1 – 4 Pin +12V Motherboard Connector
1 – AST Controlled CPU Fan Connector
2 – AST Thermo-controlled Chassis Fan Connector
1 – PSU Fan RPM monitor Connector
Additional Features
Supports AMD and Intel Motherboards
Low Acoustic Noise
Dual 80mm Fans
Meets ATX Version 2.03, and
ATX 12V Version 2.2 Specifications
Short Circuit Protection
In-Rush Current Protection
Thermal Overload Cutoff Protection
MTBF > 100,000 Hours at Full Load,
110VAC and 25°C Ambient Condition
FCC and UL Recognized
The warranty standard is a limited 3 years untill you Register at Ultra's site with the info for the power supply then it becomes a limited Lifetime Warranty.
"To ensure your complete satisfaction, all Ultra Products Power Supplies and Cases now carry a three year warranty that they will be free from defects in materials or workmanship. In addition, that warranty is upgradable to a LIFETIME warranty by simply registering online."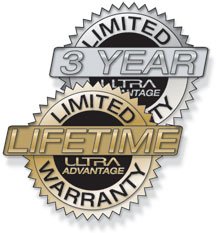 Wanting to get a closer look at the insides I took the screws out and removed the cover (Caution: doing this will void your warranty). The first thing that stands out is the large heatsinks Ultra has in the power supply.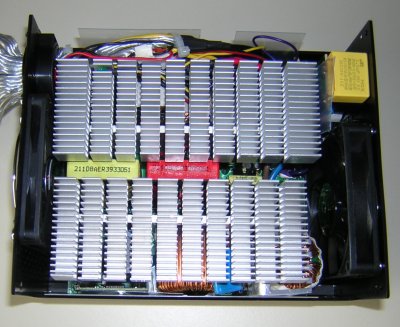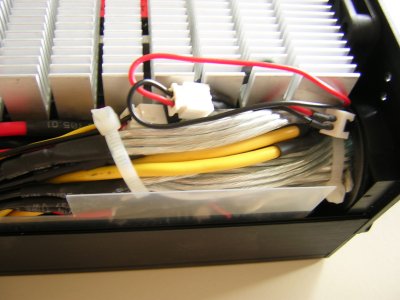 The next thing I noticed was Ultra is using some thin fans leaving more room for the power supply itself. If you're looking to mod the power supply with led fans you will have a harder time finding the fans that thin since most fans are full width.