« Page 4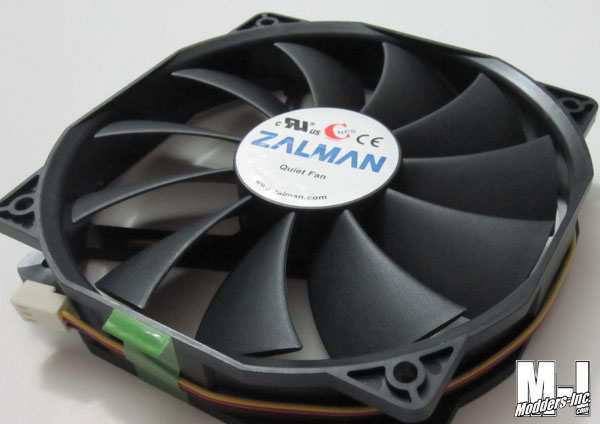 The installation can be a bit tricky for those tight spots but overall the performance is unbeatable, I absolutely love the idea of fitting a 135mm fan inside a 120mm frame. One draw back is that some exhaust vents might not be large enough for the fan to get the proper air flow it needs. Putting a 130mm fan in the pace that was designed for 120mm means that approximately 10mm of the fan could be blocked. But the beveled edge of the fan housing will help with this issue. For our test rigthis was not a problem as the vents were designed to accept larger fans to begin with. 
If your  planning on using this for a CPU cooler Fan, I'd suggest using an after-market FanController for better control over noise levels and proper cooling of the CPU as the Zalman's ZM-F4 fan is comes with the 3 Pin connector. The included Resistor Cable is a great addition for even lower noise.It is inconclusive at this point but by my testing I would have to say its much higher CFM then my previous 120mm fans.
Zalman's ZM-F4 Multipurpose Fan is hands down a good choice for any PC that is looking for low noise and higher CFM. This fan sure preforms like it should and the over all aspect of the fan is a great idea and it keeps the case 2°C  lower then before and lower overall fan noise coming from the case with ensuring a greater CFM over the traditional 120mm Fan. 
Pros

---

Cons

---

+Excellent Cooling Power.

+Low Overall Noise.

+Moderately Easy Installation.

+Resistor Cable for even Lower Fan Noise.

+Allows for RPM Monitoring.

– Some 120mm vents could be to small and might not let the fan do the venting its designed for by the over sized fan.

– Anti-Vibration Pins – could be Tough in Tight Spots.
– White Pin