A Closer Look »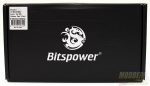 Manufacturers have been building factory overclocked components for a little while now. Asus, EVGA, MSI and Gigabyte all have GPUs that boast higher than reference clock speeds.With higher clock speeds, comes more heat. To deal with the extra heat, fans ramp up and more noise is generated. For the most part, more noise isn't too much of an issue for most gamers as they wear headsets while they are gaming. One of the best ways to deal with both heat and sound is to use water cooling. If you have a MSI GTX 970, then Bitspower has you, covered. Bitpower offers a full cover waterblock that features a clear acrylic top and a nickel plated base.
Bitspower manufactures a vast line of water cooling components and accessories. In the modding and water cooling circles, Bitspower products are highly sought after and receive good customer reviews. If you are new to water cooling or are curious about their products head on over to their website.
[sc:sponsor sponsor="Bitspower" product_link="http://www.bitspower.com.tw/index.php?main_page=product_info&cPath=173_268_270_277&products_id=3767″ product_name="VG-NGTX970MG" product_price_link="http://www.performance-pcs.com/bitspower-vg-ngtx970mg-acrylic-top-with-stainless-panel-clear.html" product_price="129.99″ ]
The water block comes shipped in a medium duty cardboard box. There is not any flash or flair with their packaging and the Bitspower logo and a small tag with the product name and part number are all that is on the outside of the box.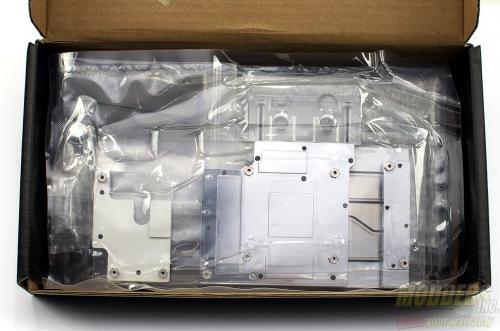 Inside you will find the individual large pieces of the product in individual plastic bag for protection.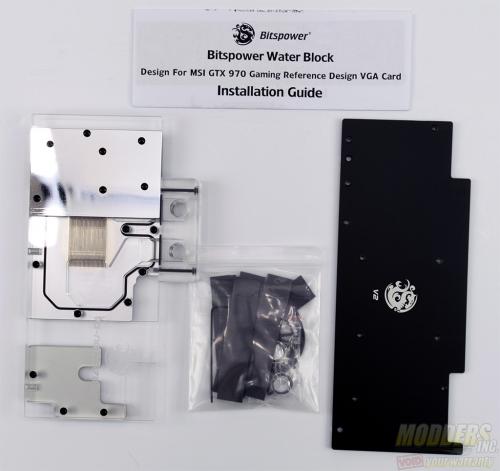 Inside, you will find the installation guide, top waterblock, back plate, and the accessory kit.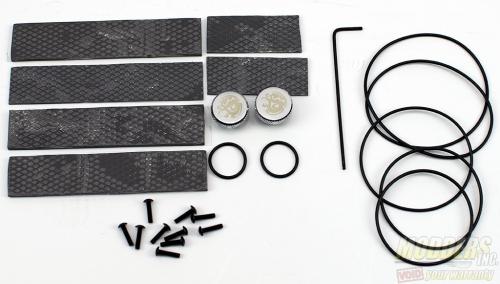 The installation kit includes thermal pads, a replacement O-ring kit, screws, an Allen wrench, and two plugs for directing water flow.
In order to install the water block, you will still need to purchase connectors that attach the tubing to the water block.
Features:
1. Design For MSI GTX 970 Gaming VGA Card.
2. Direct-Flow Design On Inlet/Outlet.
3. TOP Cover Made Of Acrylic And Stainless.
4. Block Base Made Of C1100.
5. Bottom High Durability Nickel Finished In Shining Silver.
6. Polished Stainless Panel In Shining Silver Fixed.
7. Bitspower Back-Plane Included.
8. RoHS Compliant.
Dimension ( LxWxH ) :236.7x126x20.7 MM (Out-Line)
Thread : G1/4″ x 2
LED Hole : 5MM x 3
Included :
1. Fujipoly Thermal PAD Included. (Please Reference The Installation Guide.)
2. Silver Shining Stop Fitting x 2PCS.
3. Backup O-Ring For VG-NGTX970MG x 1Set.
4. Mounting Screws/Accessories.
5. Bitspower Backplane x 1PCS