« Installation | Benchmarks »
Test System
| | | |
| --- | --- | --- |
| Type: | Component name: | Provided by: |
| Processor | Intel Core i7-5960x Extreme Edition (retail) | Intel |
| Motherboard | EVGA X99 Classified | EVGA |
| Memory | Kingston HyperX Fury Black 4×8 DDR4 2400MHz CL15 | Kingston |
| Drive | Samsung EVO 840 250 GB SSD | Reviewer |
| Graphics | MSI GTX 970 Gaming 4G | MSI |
| Thermal Compound | Noctua NT-H1 | Noctua |
| Case | DimasTech Easy XL Test Bench | DimasTech |
| Power Supply | Enermax Platimax 1000W | Enermax |
| Operating System | Windows 7 x64 Pro | Reviewer |
| Test Software | Uningine Valley 4.0 / MSI Afterburner | AIDA64 |
| Radiator | RX360 Triple Fan Radiator V3 | Reviewer |
| Pump/Reservoir | D5 Vario Photon 170 Reservoir/Pump Combo | Reviewer |
| Fittings | Bitspower Matt Black Compression fittings for 7/16-5/8 tube | Bitspower |
| Standardised Fans | 3x Enermax Twister Storm 120mm | Enermax |
Tests were conducted with the D5 Photon 170 Reservoir/Pump combo pump speed set to 3 on the dial. The water loop was filled using distilled water only. A 24 hour leak/bleed process was completed before benchmarking. Three Enermax Twister Storm fans were mounted to the XSPC RX360mm radiator. Ambient air temperature is measured at the fan intake and kept constant at 23°C. Fan speeds were manually set to 800 RPM.
To test the water block I left a loop of Uningin's Valley 4.0 running. Since it takes a while for the heat to buildup in the water in the cooling system, I left the application running for an hour before recording temperatures. I verified 100% GPU utilization using the MSI Afterburner application. Temperatures were recorded with TechPowerUp's GPUz and maximum temperature was recorded. for ovclocking I used the MSI afterburner application to push the GPU to 1528 MHz on the GPU and 8000 MHz for the memory.
Noctua's NT-H1 thermal compound is used as it is non-conductive, non-corrosive, compressor-cooling compatible, long-term stable in storage or use, and does not require curing time. Plus, the compound's consistency spreads well under pressure without the need to be manually spread.
Enermax has generously provided four Enermax 120mm Twister Storm fans to use for standardised testing. Using the speed shift control, fan speeds were limited to a maximum of 2500 RPM.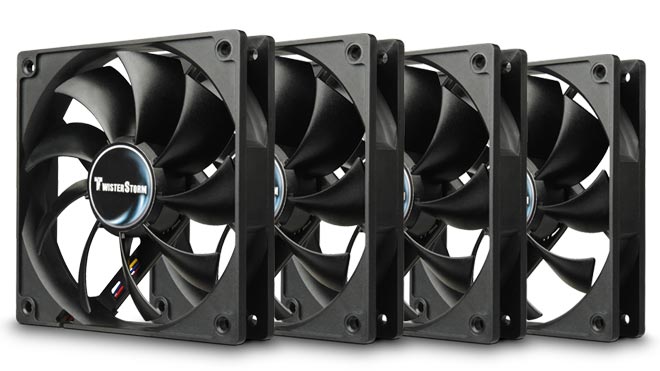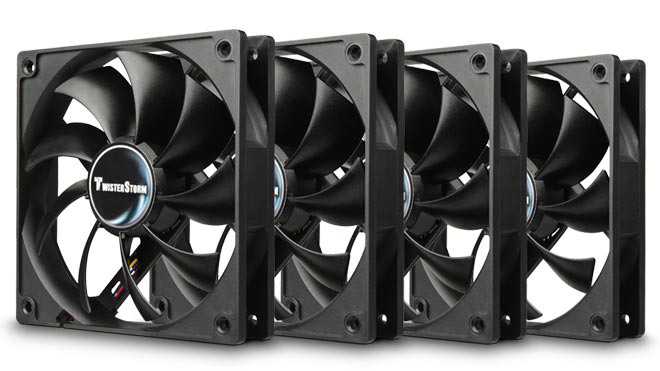 Enermax Twister Storm Specifications:
| | |
| --- | --- |
| Dimensions (mm) | W120 x H120 x D25 |
| Speed Control | fixed RPM with Shift Speed Control (SSC) |
| Bearing Technology | patented Twister Bearing Technology |
| Number of Blades | 9 Storm-Flow Blades |
| Fan Speed (RPM) | 1500 ~ 3,500 (+/- 10%) |
| Air Flow (m³/h) | 123.11 ~ 262.55 |
| Air Flow (CFM) | 72.46 ~ 154.53 |
| Static Pressure (mm-H2O) | 2.512 ~ 11.125 |
| Noise Level (dB(A)) | 23 – 38 |
| Connector | 3 pin |