« Introduction | Installation »
A Closer look at the Bitspower VG-NGTX970MG
The Bitspower water block is comprised of a thick piece of Acrylic with Nickel plated copper for the base plate. There is a stainless steel decorative plate on the top of the water block near the front.

The side profile gives a good shot at just how thick the Acrylic on the GTX 970 water block is. This should ensure long life and less of a chance of cracking due to over tightening. Acrylic as compared to Acetal, tends to be more fragile.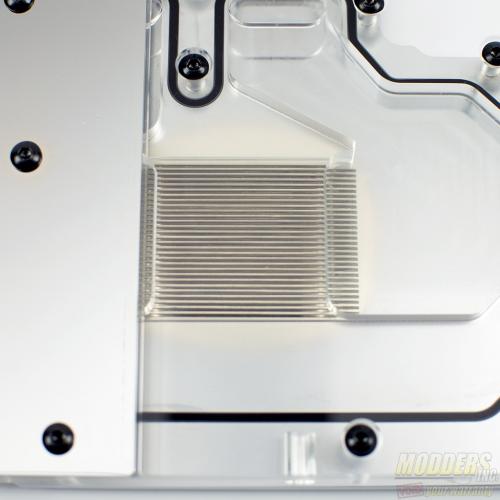 Through the top of the water block, you can see the fins that are used to keep the GPU of the card cool. Fins are used to increase the surface are of the surface to be cooled and allow more heat to be transferred from the water block to the liquid.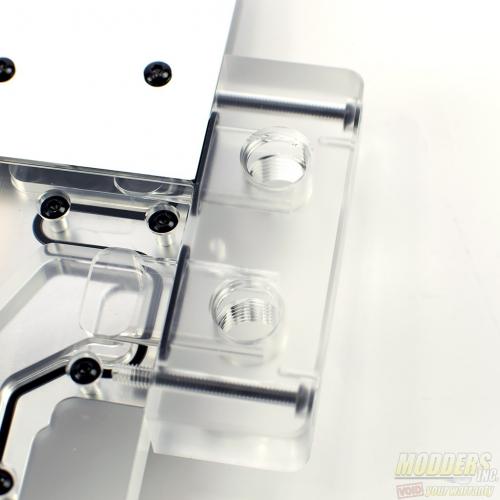 The inlet/outlet for the card is located at the edge and both ports are threaded on the top and bottom. This allows for water to enter one side, exit the other and enter and/or exit from either the top or bottom. The included plugs are installed on the opposite side of the connectors. For example, if the tubing connector is installed on the left port on the top side, the plug would be installed on the left port bottom side. This makes sure the liquid flows through the water block.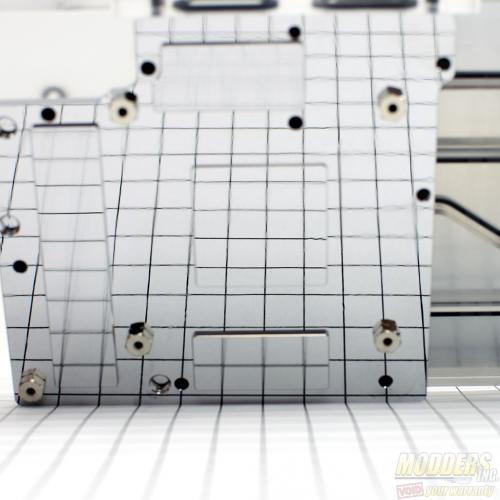 The base of the water block is highly reflective and polished to a mirror finish. Very light machining marks are present in the base.
The back plate of the Bitspower MSI GTX 970 water block provides a secure method to attach the water block to the GPU. It also provides stability to the card as the water is a little heavier than the stock fan on the card. The weight of the water block is spread out across the card vs a few screws just running through the PCB.