« Benchmarks
Conclusion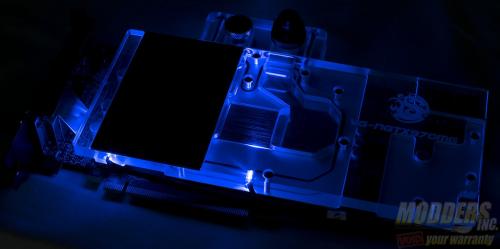 Water cooling used to be what one of "those guys" did. They build their own parts out of recycled aquarium pumps, made their own blocks and tubing, etc. Today however, it is quite different. While water cooling is not quite mainstream yet, it is getting closer and closer. Water cooling your PC has some pretty amazing benefits when it comes to getting the heat away from the hot components in your PC however, it does have draw backs such as cost. Water cooling can be expensive depending on the parts being installed. There is a slight chance of leaks although, with today's compression fittings that change appears to be greatly reduced. Finally, it can be complicated. With all the different vendors, and parts available it can be a real pain to figure out exactly what you want.
I am one of the users that tends to replace my GPU every two to three years, so for me purchasing extra accessories for the GPU wasn't really attractive for me. However, after experiencing the performance difference that a GPU water block makes, I could potentially keep my GPU longer and push it harder without the worry of damaging it.
Bitspower has an outstanding product with the MSI GTX 970 water block. The build quality is perfect. The Acrylic is clean and clear. The assembly of the product is good and I did not find any loose screws holding the block together. Bitspower includes some maintenance items with the waterblock. The extra O-rings allow you to take a part and clean your water cooling setup and put it back together without having to worry about reusing old potentially brittle or damaged O-rings.
Performance was great. Even overclocked the Bitspower water block was able to keep my setup under 40° C. Your mileage may vary a bit depending on the radiators, pumps and fans you use. I did a few hour gaming session in Evolve and Alien Isolation and the results were still the same, reported GPU temperature never exceeded 40° C during that time.
Building and laying out a single or dual water cooling loop can be tedious and can seem like a daunting task if you have never done it before; don't let the word water and computer scare you. With a little planning and some time a top notch loop can be build and be reliable for daily use. The GTX 970 is a great performer and combined with the Bitspower water block, it can go from great to outstanding. If you're looking at cooling your MSI GTX 970, be sure to give the Bitspower VG-NGTX970MG a good hard look.
[sc:must_have_award ]