PC Mouse
Cooler Master CM Storm HAVOC Pro Gaming Mouse
« Intro
|
Page 3 »
A CLOSER LOOK 
The CM Storm HAVOC mouse looks and feels wicked to the touch. A flat matte, rubberized coating with piano gloss slick details. Roller wheel also rubber coated, Up Down DPI buttons, edge leds showing DPI selection, thumb control buttons with pressure left right mouse click regions.
Whatever this coating is, it feels good. Cool, non slip, smooth and just the right details like the smooth black glossy right side to the left rubber grooved thumb grip.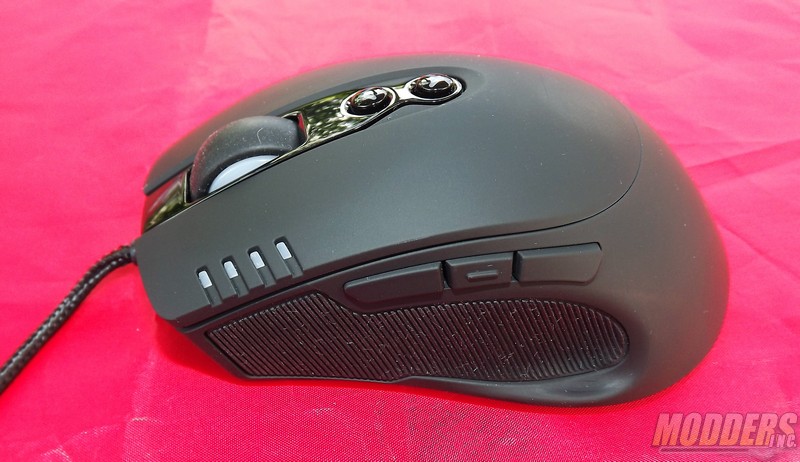 Get a Grip! Even in the Storm of Battle you can hold on for dear life with the thumb grip shown here. It's super grip for those tight dead on positions needed for today's precision aiming. By default the settings for the three thumb control buttons near the thumb pad are forward page, backward page and color selection.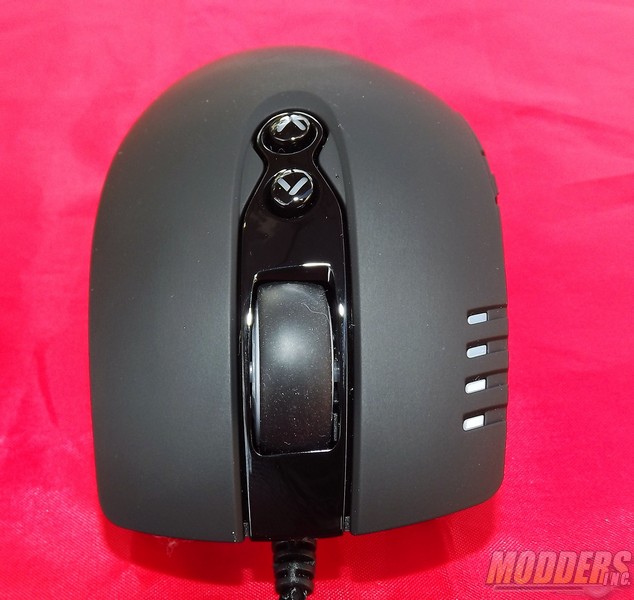 It might look like a dragster slick tire but this wheel has all the traction your finger can muster.
Surrounded by the smooth glossy piano material there is no sloppiness side to side.
DPI LED's are sunk in the grooves on the left edge visible between thumb and wheel fingers.
Here we have the right side view of the smooth high gloss look.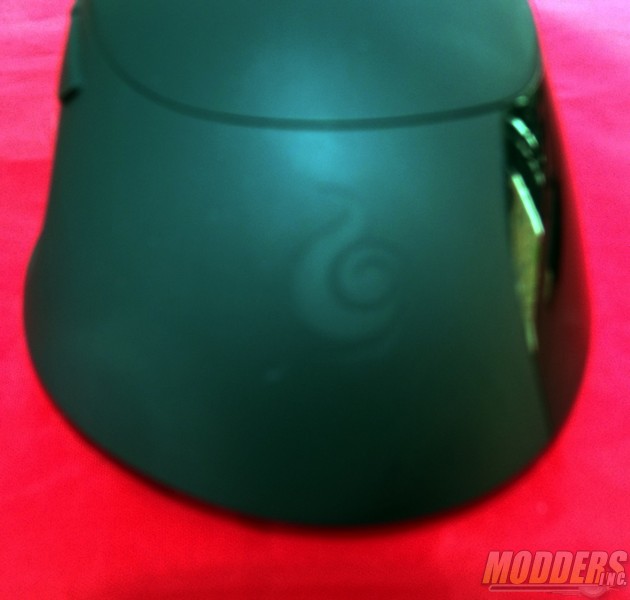 We'll see the CM Storm logo in all it's glory once operating.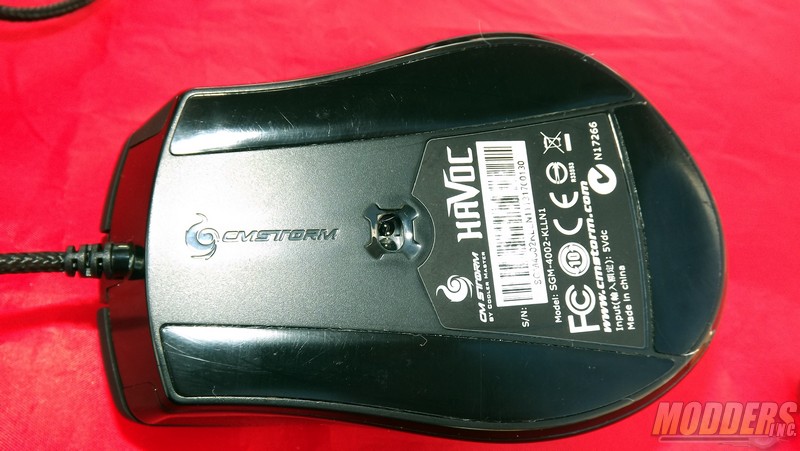 No it's not a overturned funny car. It is the underside of the HAVOC. What I see and like very much here is the slider pads. Cooler Master has used every millimeter of surface possible to guarantee a smooth ride.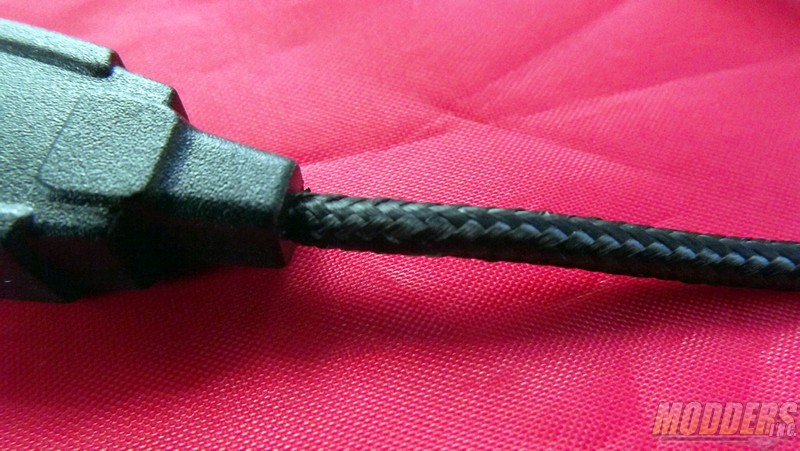 1.8 meter braided cable. Feels stiff and rugged ready to weather any abuse. Looks like nylon PET but feels like a cloth material.
Gold plated USB connector, true audio grade character and performance should be in the forecast.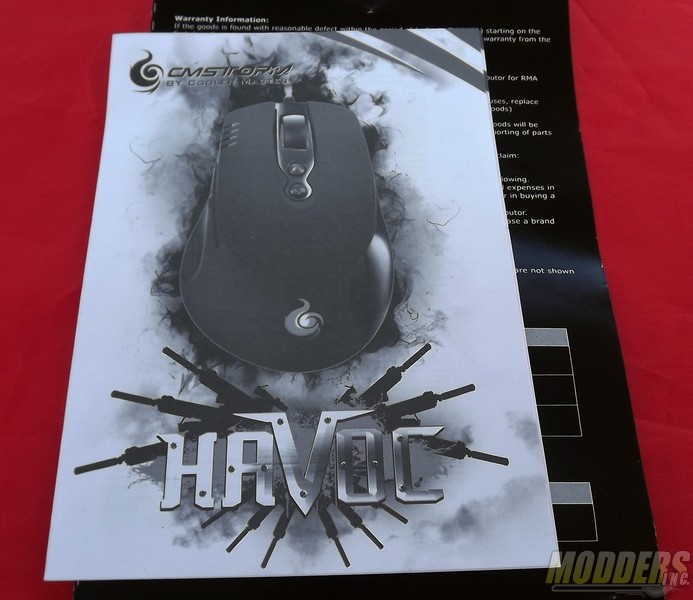 User guide provided shows it's intentions.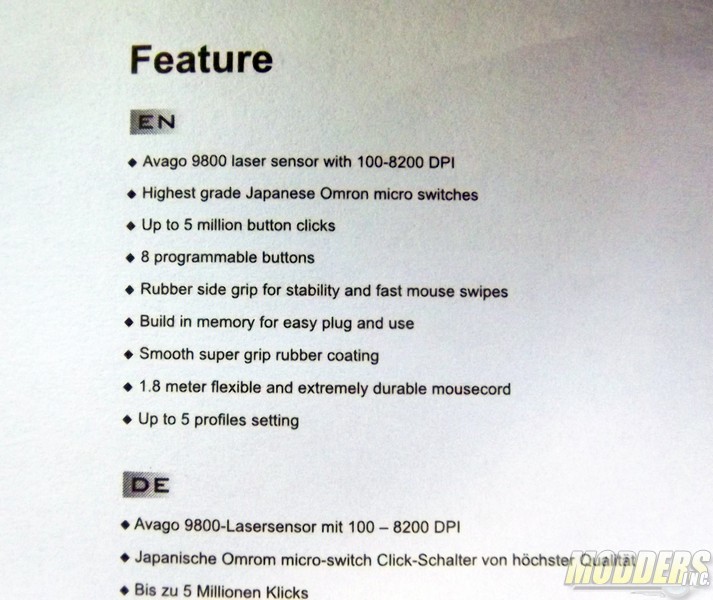 Who's got a 5 million click game? Features boast the mechanics can handle it.
AVAGO Laser provides the high end class lasers used in only the best gaming mice:
8 programmable controls and 5 profile settings? We'll get into that in the SOFTWARE APPLICATION section.
The Black Matte Rubber Paint is very comfortable especially for long sessions.
8200 DPI at the time of this review 8200 DPI among the highest performing laser streams available.
Tracking is excellent except for glass. Mouse pad, wood, leather, clothing all passed.