PC Water Cooling
Cooler Master Masterliquid ML240P Mirage AIO Cooler Review
The Master of Coolers does it again!
« Installation
|
Final Thoughts and Conclusion »
Test System, Testing Procedures and Results
Component

Product Name
Provided By
Processor
Intel Core i7-8700K (Retail)
Intel
Motherboard
Aorus Z370 Gaming 7
Gigabyte
Memory
Patriot Viper RGB 2x8GB @ 3200MHz
Patriot
Drive
Samsung 240 EVO 256GB SSD
Samsung
Video Card
MSI Gaming X Trio 2080
Retail Purchase
Monitor
LG 27UL500-W 27″ 3840×2160 @ 60 Hz
Retail Purchase
Case
Primochill Praxis Wetbench
Primochill
Power Supply
Enermax Platimax 1350 Watt 80+ Platinum PSU
Enermax
Operating System
Windows 10 x64 Pro with latest patches and updates
I'd like to mention again that all testing was done on the Primochill Praxis Wetbench. However, the cooler was then installed in the NZXT H340 Elite. All of our testing is always done on an open-air test bench. Like with most AIO coolers, the tubing wasn't long enough to be properly installed on the test bench. So to depict a proper installation, the cooler was then installed in an actual case. For AIO review, we record temperatures at idle and load. We also tested the cooler with the fans on silent mode and at 100%. The fans speed was set using Gigabytes Smart Fan 5. The ML240P Mirage was also tested with the I7 8700k at both is stock speed, as well as overclocked to 4.7 GHz. On stock, the processor consistently boosted to 4.3 GHz, up from its base clock of 3.7 GHz. To validate our overclock, as well as put a load on the CPU, we use the AIDA64 Engineer Stability test. We run both the CPU and FPU test and record the CPU package temperature. Even when overclocking, the CPU was left at its stock voltage and ran about 1.25 volts. The Ambient temperature during testing was about 22°C, or about 72°f. In order for the test to be considered a success, the stability test must run for no less than 15 minutes.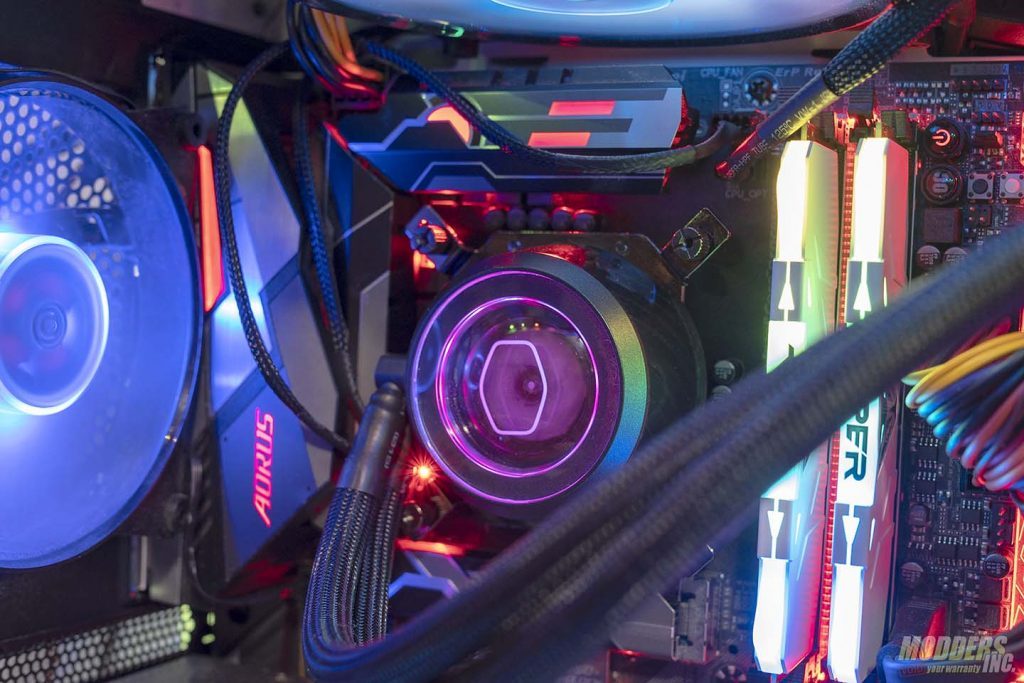 The first temperature recorded is the idle temps, at stock speed with the fans on silent mode. Then, we ran the AIDA64 CPU Stress test for about 30 minutes and reached a max temp of just 58.82°c. This gave us a delta of only 8.64°c at idle and a load delta of 36.82°c.
Next, we tested the ML240P Mirage with the processor still at stock, but the fans at 100% speed. The idle temp dropped to only 26.93°c giving us an idle delta of only 4.93°c. Under load, being the AIDA64 CPU stress test, our 8700k hit a max temp of 56.34°c with a delta of 34.34°c. When I say silent, I mean silent as in about 23 decibels.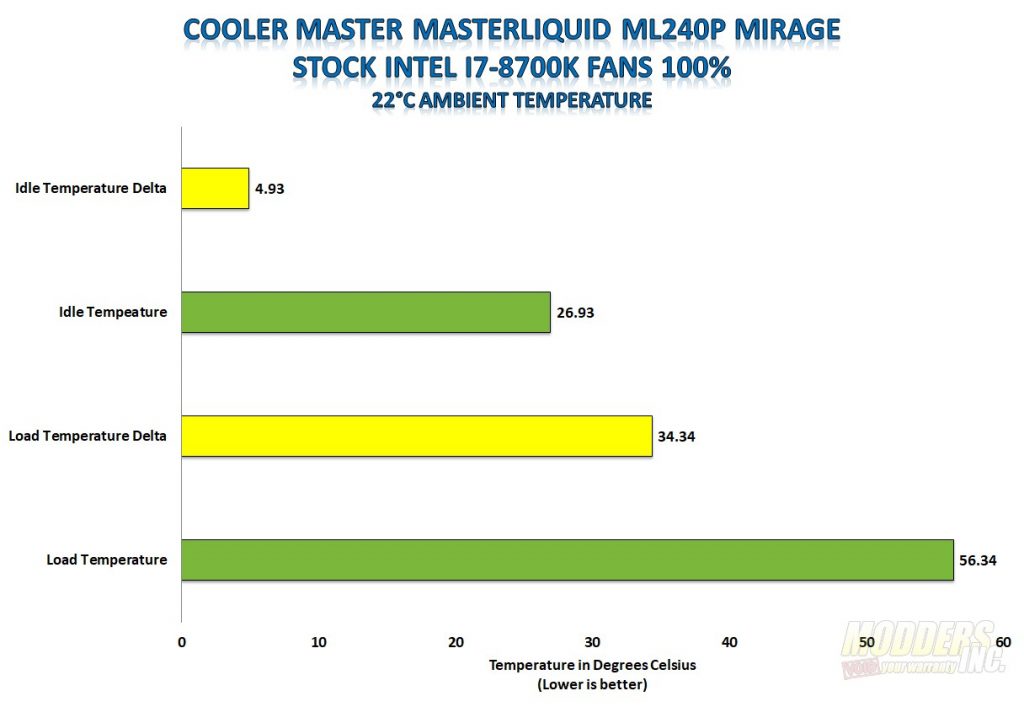 Our next step included overclocking the processor as far as we could push it. However, the voltage was left at stock. So not really as far as we could push it. We ended up with a nice stable overclock of 4.7 GHz at 1.25 volts. Increasing the voltage didn't increase our clock speed or stability. It just increased the temperature. This is why the voltage was left at stock. Our idle temperature increased to 33.71°c and gave us a delta of 11.71°c at idle. Our max temp under load was 70.29°c, giving us a delta of 48.29°c. Even with the fans running at 100%, the system was still very quiet and never even hit 40 decibels.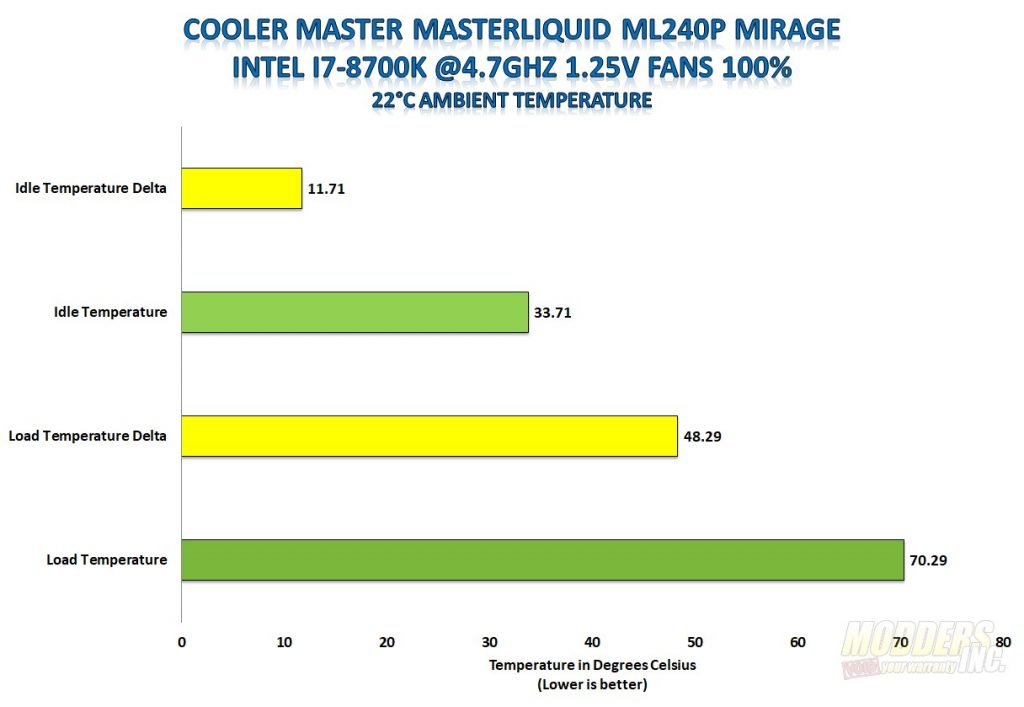 The Final test was the FPU stress test on the AIDA64 Stability test. The FPU test puts a heavy load on your processor. This puts a massive strain on your system and results in high temps. Very often, your overclock will pass the CPU stability test with flying colors and crash and burn on the FPU test. Originally, our I7 8700k did hit 4.8 GHz at 1.31 volts. It passed the CPU test with a max temp of 72°c. Then, on the FPU test hit about 93°c before the system crashed.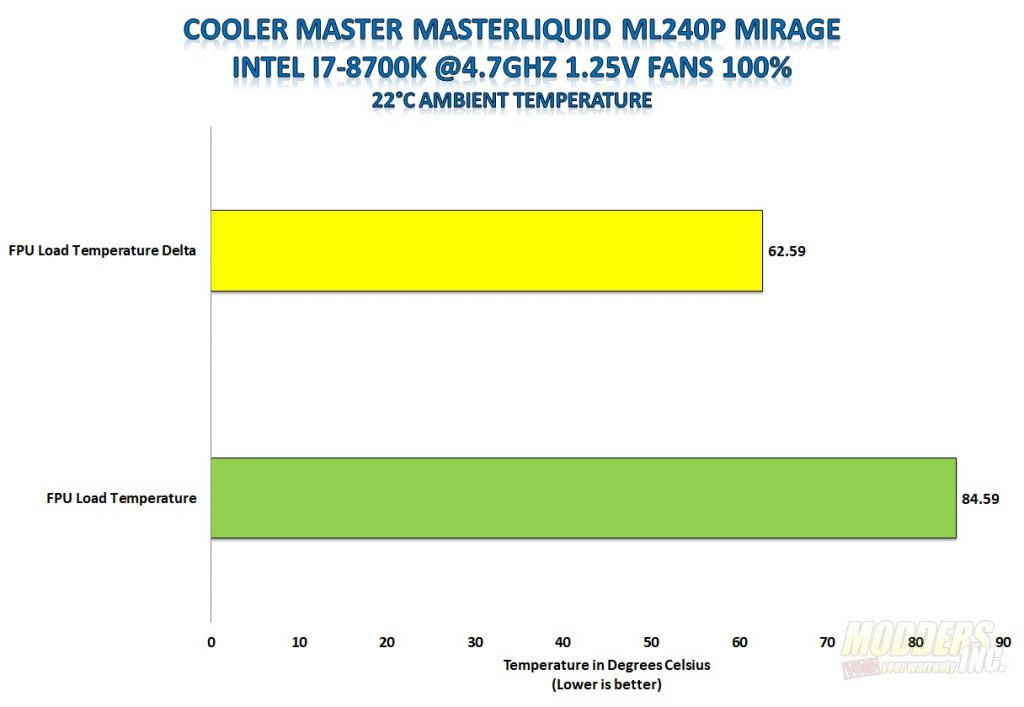 So, we lowered the clock speed to 4.7 GHz and left the voltage at stock. At stock, the voltage maxed out at about 1.25 volts. After a little over 20 minutes, our I7 8700k reached a max temp of 84.59°c with a delta of 62.59°c. This was a bit higher than the results achieved on our ML240R RGB review. However, the stock temps were a bit lower on the ML240P Mirage.