Systems
ECS LIVA Z Mini-PC Review: Efficiency Still Matters
« System Benchmarks
|
Conclusion »
Multimedia, Power and Thermal Performance Benchmarks
Online streaming/YouTube 4K VP9: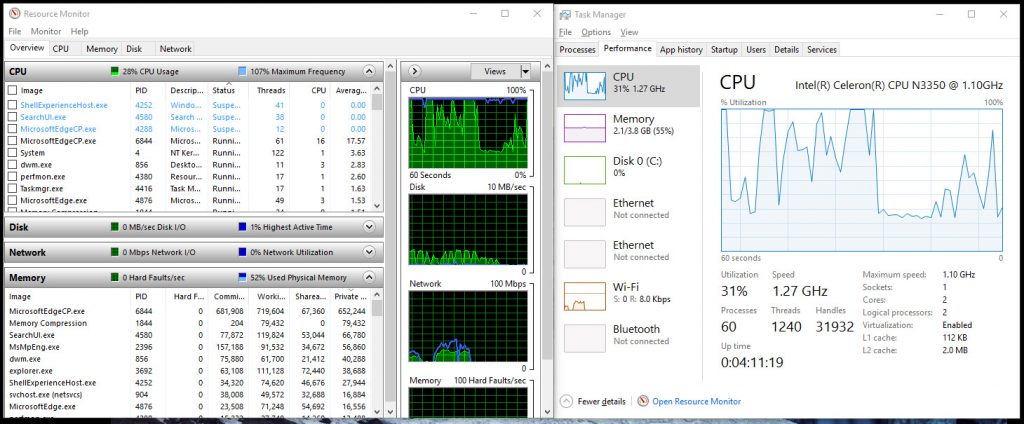 Online video streaming is a basic function and this should be a fairly easy task, YouTube's VP9 is fairly lightweight for the Apollo Lake SoC. The bottleneck mostly resides on the Internet connection as 4K videos tend to be big but using a wired connection, streaming is not a problem. Power consumption reached 8W.
H.264 Playback

H.264 1080p playback is pretty much expected from any current HTPC hardware as acceleration is available although 4K playback can be taxing on most. Using Media Player Classic Home Cinema (DXVA), performance is tested across a variety of common HTPC media files including 4K performance. Both 1080p and 4K performance for 24 and 30fps went without a hiccup. It definitely handles it a lot better than the Liva X did. Power consumption reached 10W under 4K load.
With HEVC load, there is an initial hiccup on first load but playback is smooth with the rest. HEVC 10-bit 4K playback is a different story however, and it is where the Apollo Lake shows it is not ready for media that far ahead yet. The HDMI is also 1.4b instead of 2.0 so there are bandwidth limitations in that regard. Although there is a mini-DisplayPort option included.
Thermal Performance
We saw a bit of the power consumption in the multimedia test but let us see the thermal performance when the system is loaded and whether the passive cooling system is enough to keep the Intel Apollo Lake SoC in check without throttling under full load. AIDA64's system stability was used as you can customize the load to each component or you can load it entirely simultaneously. Idle temperatures averages at mid-40s celcius, but then again it is passively cooled. Peak temperature is detected as 59C by HWInfo and AIDA64 (core). Graphics also peaked at 56C as well. Power consumption under this load is not as much as the HEVC 4K load, and only peaked at 10W from the wall.