Graphics Card Reviews
Gigabyte GTX 960 G1 Gaming 2GB Video Card Review: Mainstream Price, High-End Extras
« Introduction | Cooling System Design, Overclocking and Thermal Performance »
A Closer Look at the Gigabyte GTX 960 GV-N960G1 Gaming-2GD Video Card

Total card length of the GTX 960 G1 Gaming Windforce video card is 30cm but is just under two slots tall, restuling in a slim and long appearance. The backplate and the fan shroud have a brushed aluminum exture and are very lightweight. The backplate also has airflow channels to minimize heat buildup on the PCB during operation. The 90mm fans themselves are very low profile and are PWM controlled. These fans have a auto fan-off feature that is dependent on the GPU temperature. If the temperature is 43C and GPU power drops down to 32W, the fan shuts off completely and an LED indicator beside the WindForce logo is lit. Once power draw exceeds 60W or GPU temperature reaches 62C or hotter, the fan starts spinning.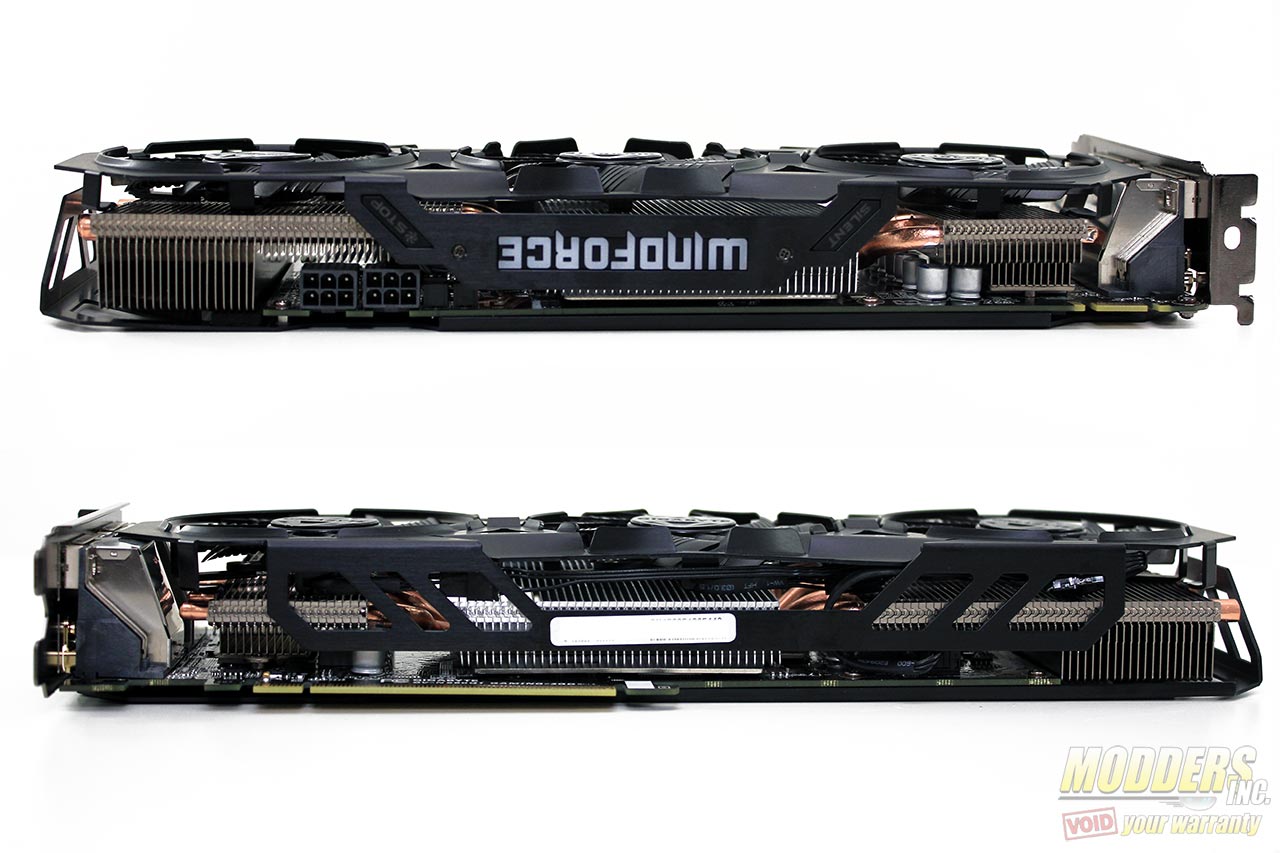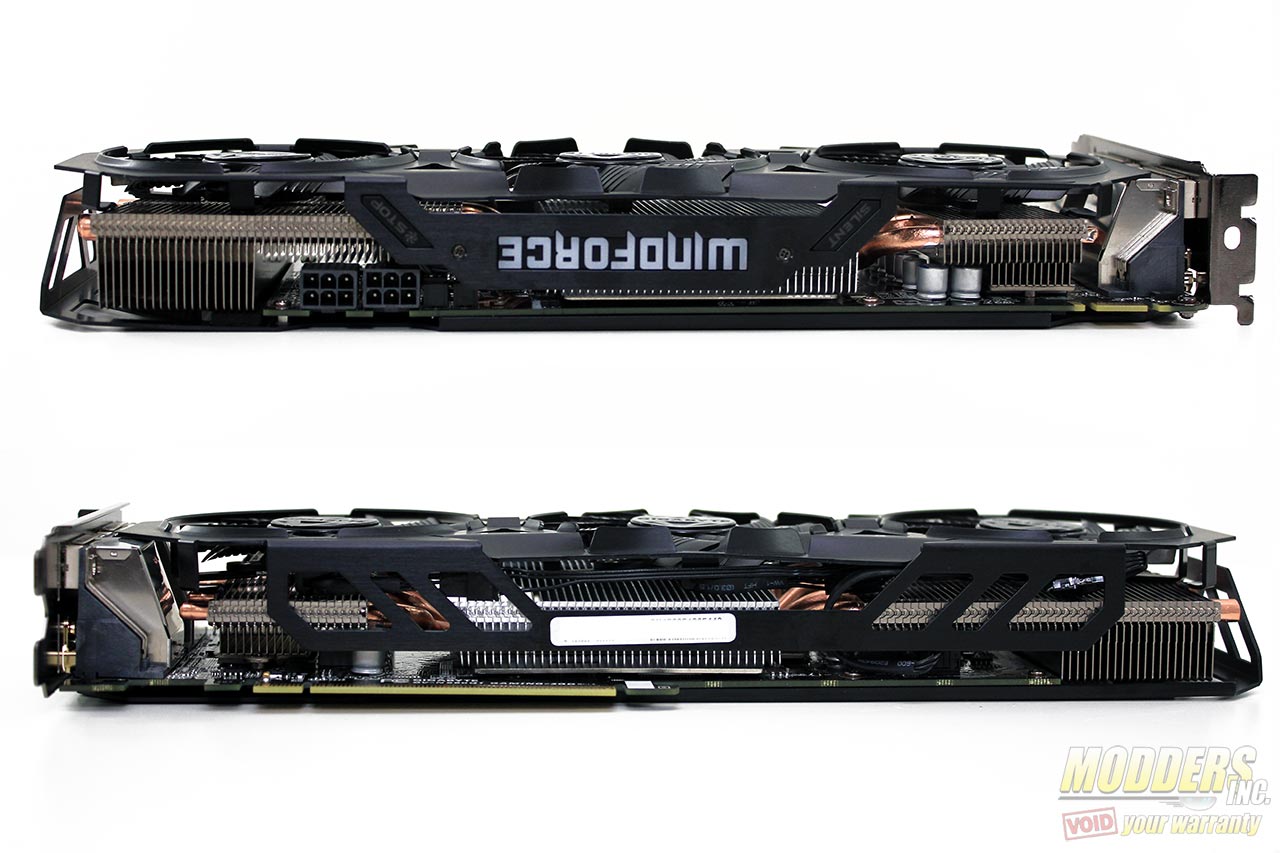 At the rear, there are a wealth of display connection options including a DVI-I and DVI-D port, an HDMI 2.0 port and three DisplayPort 1.2 connectors. Gigabyte has implemented a flexible display switching solution for this card with two different options of connecting up to four displays: Type A which involves using the two DVI ports, the HDMI port and one DisplayPort or Type B which can use the HDMI, DVI-I and two of the DisplayPorts. The sides as wel as the tip are all high-airflow friendly with large openings and gaps.
The Gigabyte GTX 960 G1 Gaming uses two 6-pin PCI-E power connectors which draws more power than a typical GTX 960 with only one. That is 75W from PCI-E, and 150W from the PSU directly so it certainly a custom VRM design underneath that.One SLI connector is available for up to dual-SLI configuration.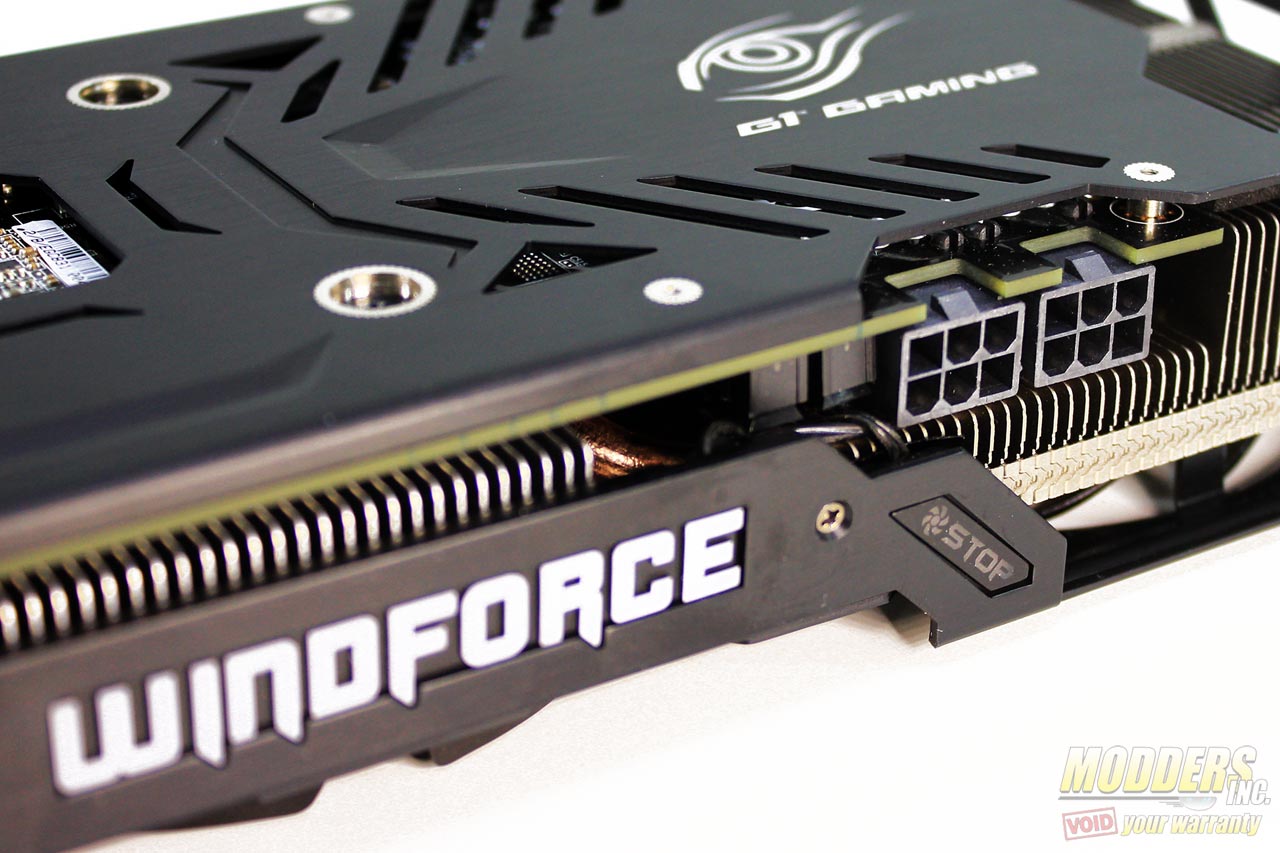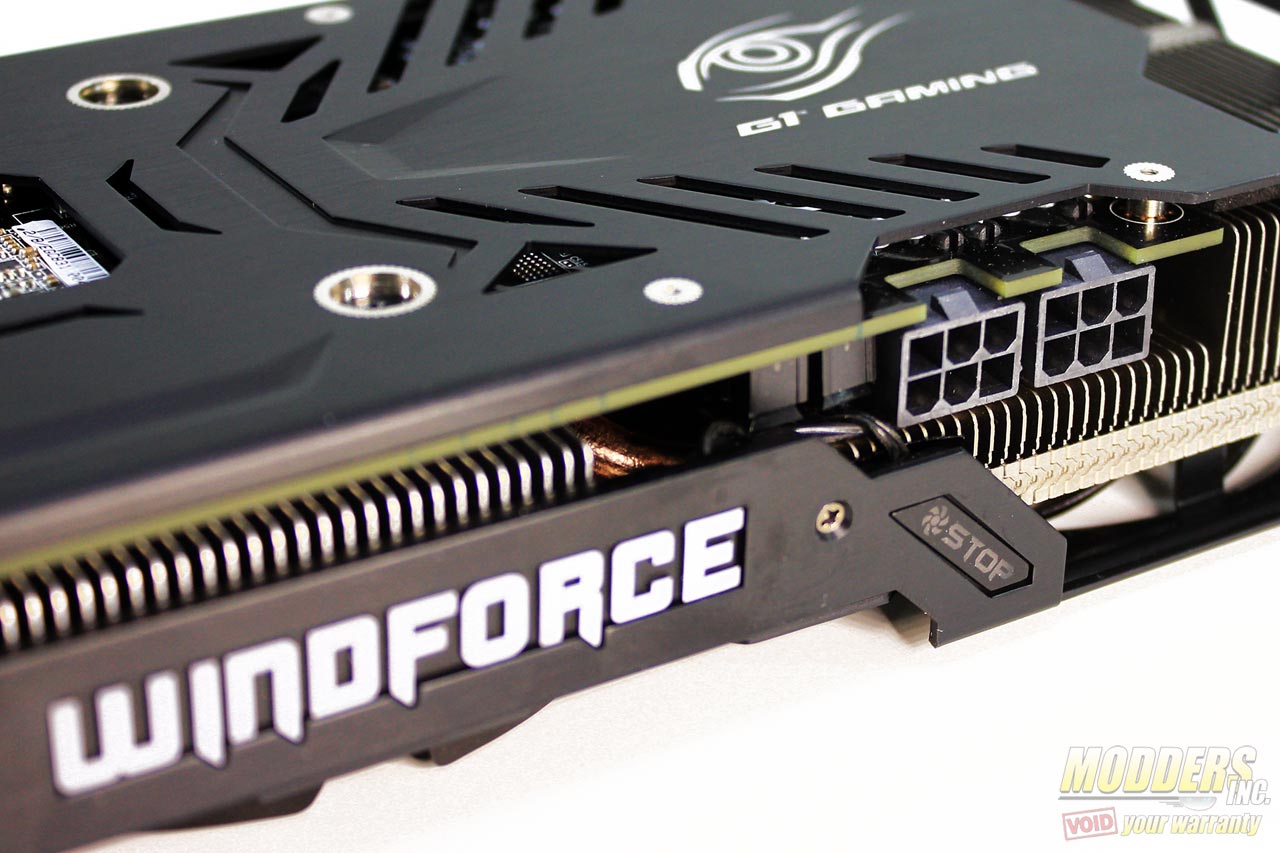 Underneath the hood, the GTX 960 has an NVIDIA GM206 "Maxwell" GPU, the direct descendant of the GK106. In comparison, the GM206 only has two Graphics Processing Clusters compared to the GK106's three but has eight Kepler Streaming Multiprocessors (SMM) versus five. Each SMM unit in the GM206 has its own dedicated 96KB shared memory compared to Kepler's 64KB. There are 1024 CUDA cores in total with 64 texture units, 32 ROPs on a 128-bit memory interface. Normally that 128-bit path sounds like a performance bottleneck but NVIDIA has revamped their delta-color compression engine in Maxwell that when coupled with caching improvements in the architecture, results in improved effective bandwidth compared to the GK106.
The reference NVIDIA GTX 960 has a 3+1 phase power design but Gigabyte has customized the VRM on their top-end GTX 960 three-fan variant to a 6+1 phase design. At the back of the card is an On-Semiconductor NCP81174, a controller that can be configured for up to 4-phase function. In the Gigabyte GTX 960 G1 Gaming video card, this controller is configured as a three-phase controller coupled with three NCP81162 doublers and a separate NCP5901B driver for a pair of Alpha & Omega Semiconductor AON6508 with an AON6414A TrenchPower MOSFET per phase. All output capacitors are solid 820uF LF-Pak caps and the inductors are Magic Technologies SRPN 0.15uH high-current SMD chokes. A Texas Instruments INA3221 on the top edge is a 3-channel high-current bus and voltage monitor involved in power distribution.
Gigabyte has outfitted the GTX 960 G1 Gaming with dual-bios in the back (marked with a pink and white dot) so there is redundancy fail-safe should the first one get corrupted and still boot.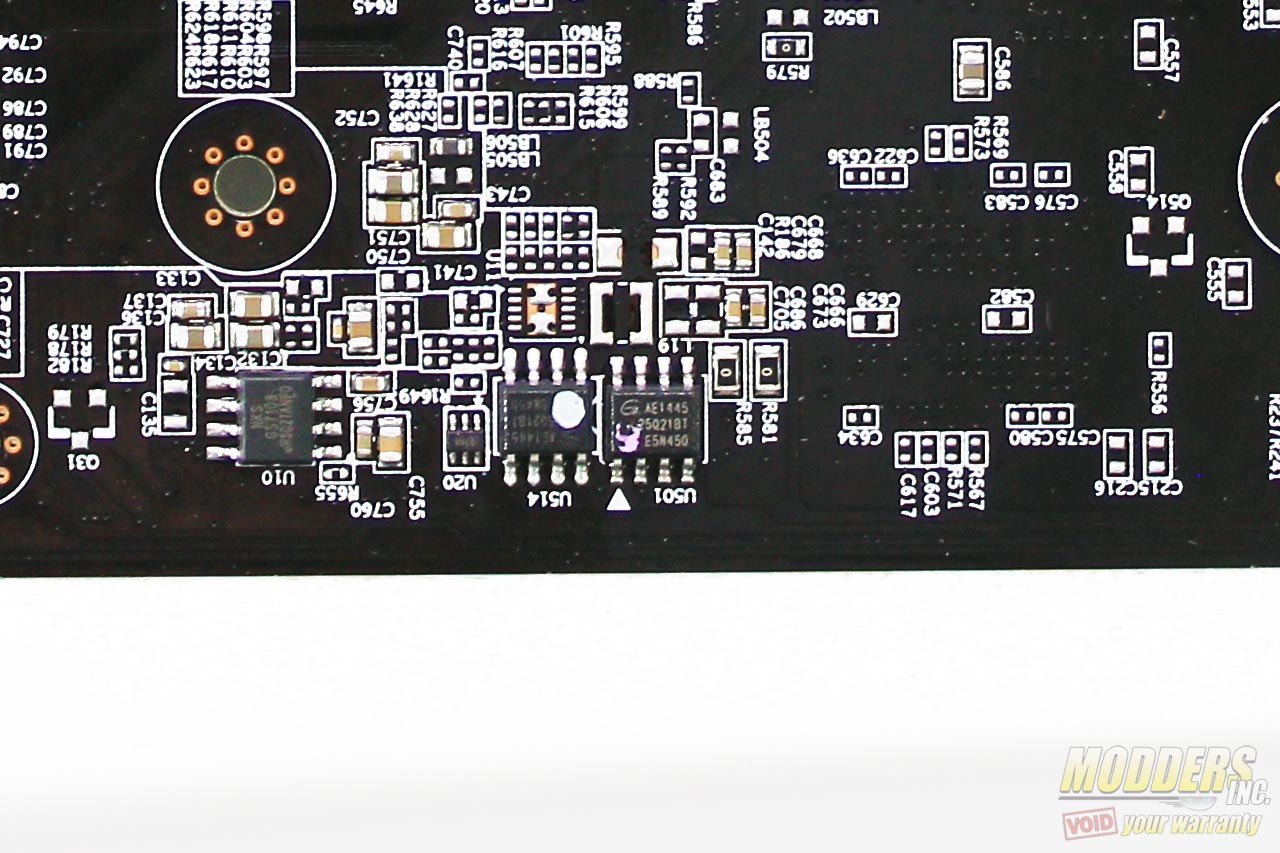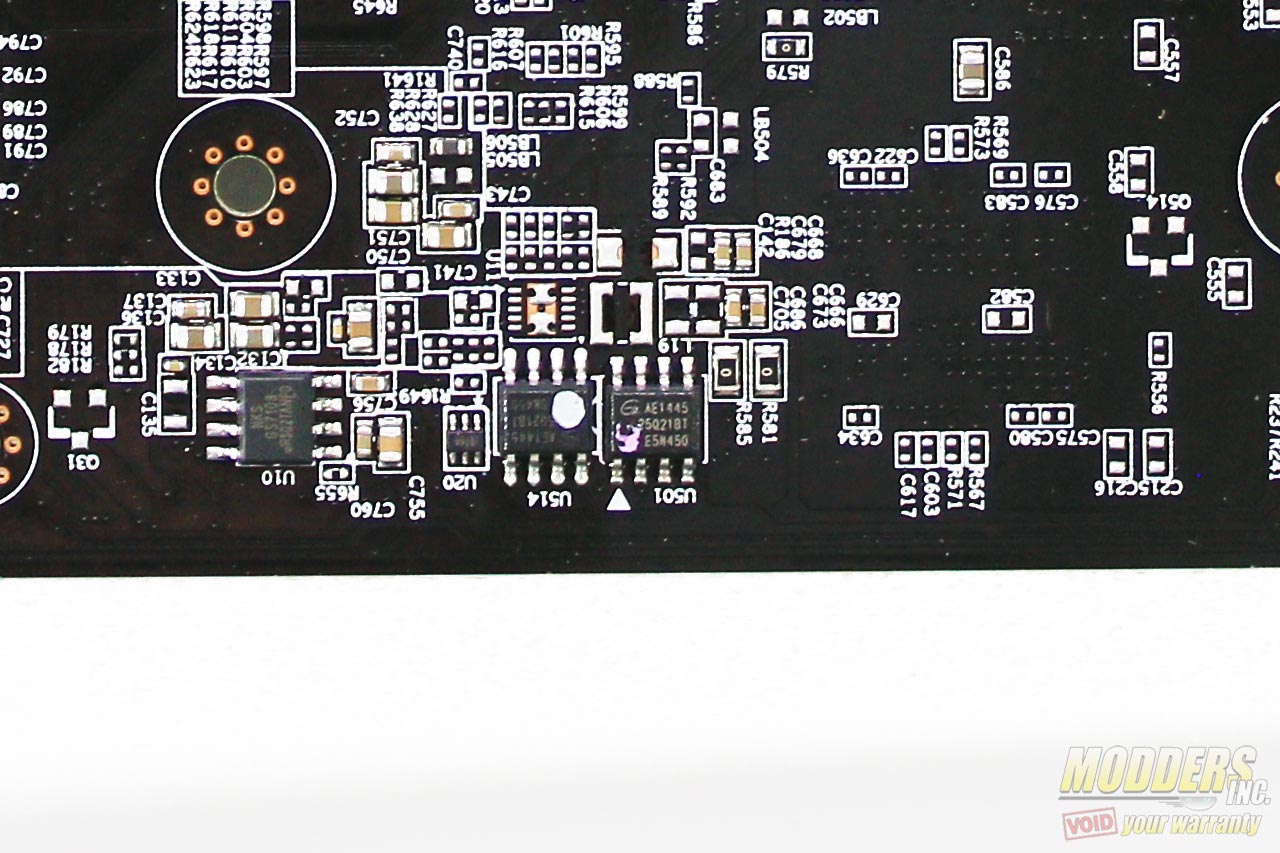 The memory modules used are Samsung K4G41325FC-HC28, specified to run at 1750MHz (7000MHz effective). Two are on the top side of the PCB and two are at the back. Only the two at the top side are passively and actively cooled while the back modules are not.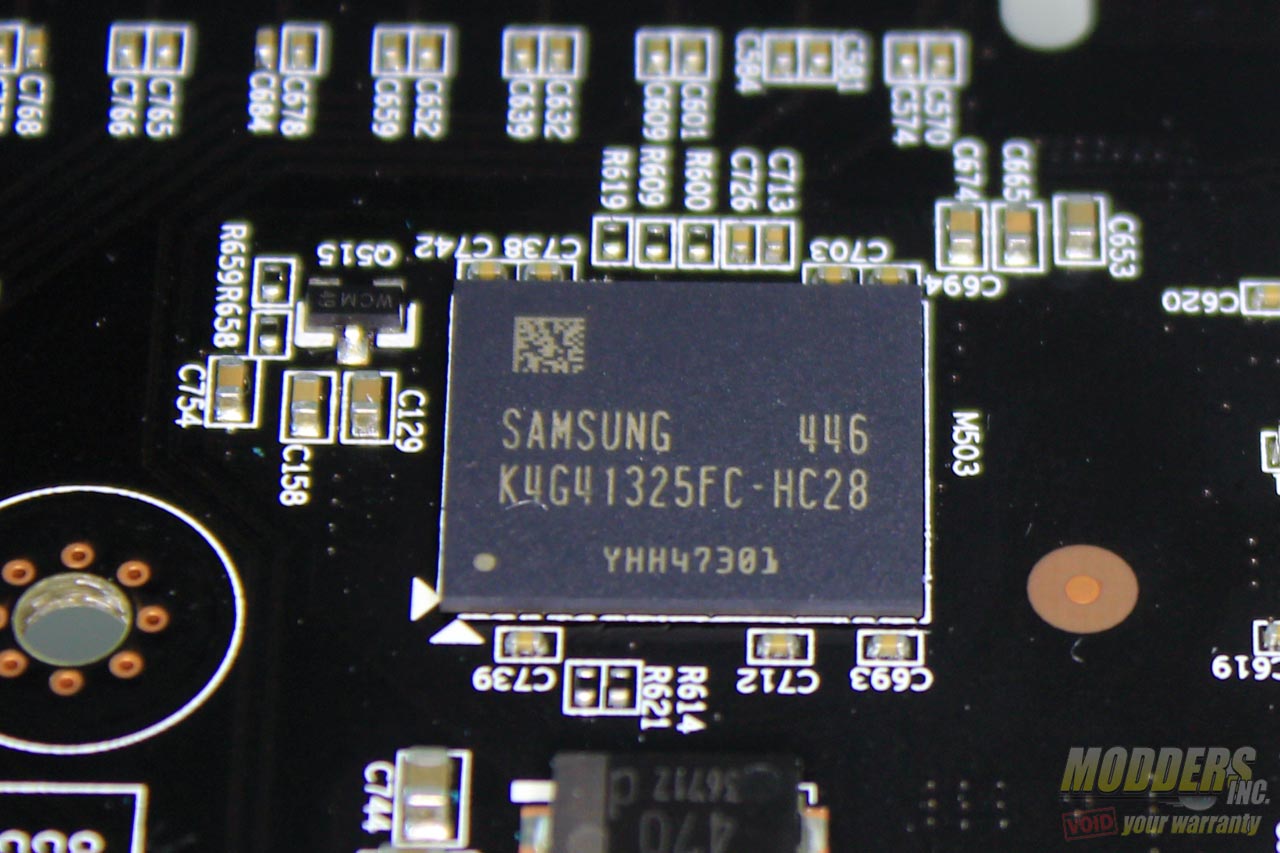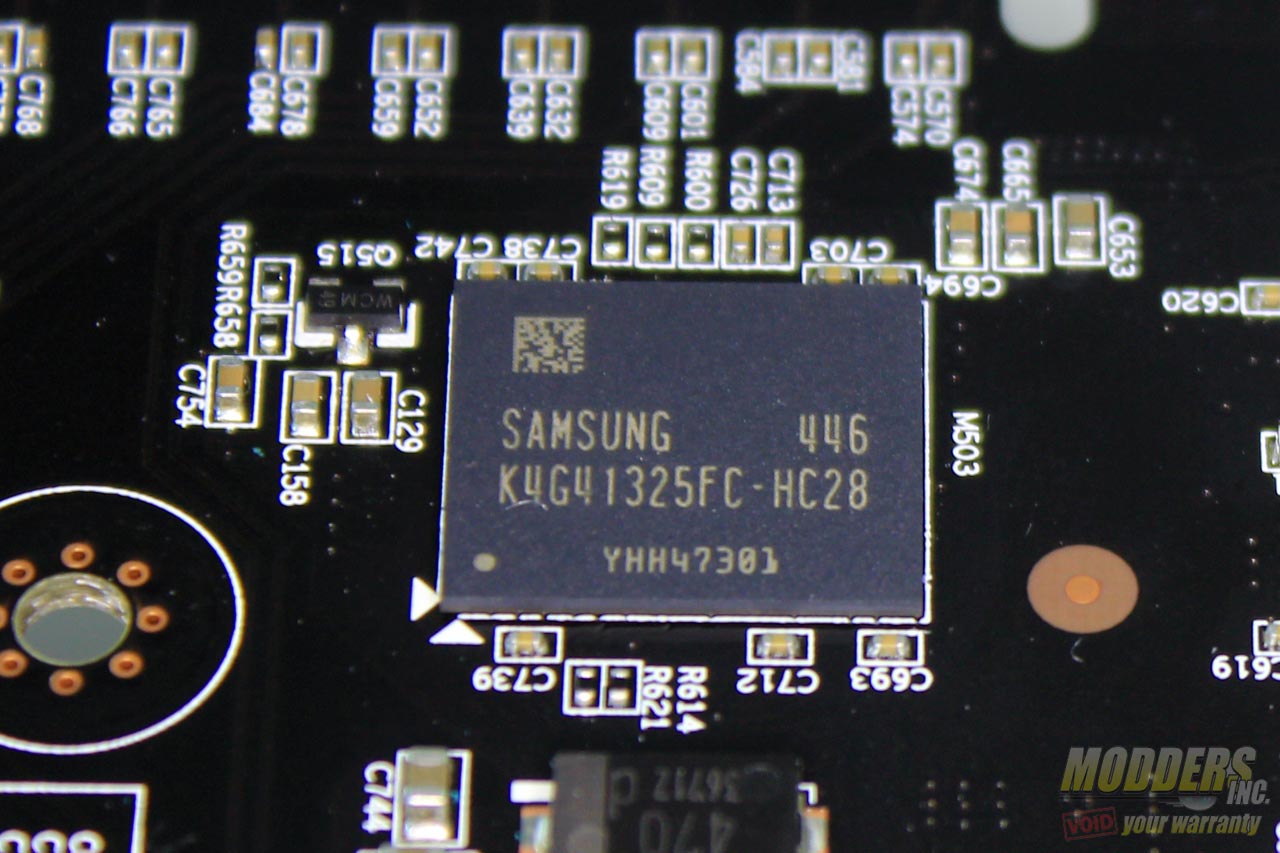 Tucked near the GPU are these two Pericom PI3WVR 4-lane DP/HDMI switches, each capable of up to 5.4Gbps data rate transfers. These are responsible for the flexible display output capabilities of the GTX 960 Gaming G1.