CPU Reviews
Intel Core i9-10900K CPU Review
Is this the CPU you're looking for?
« The Intel Core i9-10900K CPU
|
Intel Core i9-10900k Benchmarks Continued »
Test System and Benchmarks
Intel Core i9-10900K Test Bench
AMD Ryzen 9 3900x/Ryzen 7 3700x Test Bench
Intel Core i7-8700k/Core i9-9900k Test Bench
System settings –
Windows was set to High Performance in power management settings. Motherboard settings for the non-overclocked tests were reset to factory defaults and only the XMP for the G.Skill RAM was enabled. Everything else in the BIOS was left at the factory defaults for the stock tests.
Cooling
All the test benches are fitted with a custom loop featuring an EKWB Coolstream PE 360 mm radiator, EKWB Vardar fans x3, EKWB Velocity waterblock for both Intel and AMD, as well as an EKWB XRES 140 REVO D5 filled with distilled water. The motherboard settings were left to their stock configurations.
Testing and Performance
AIDA64 ENGINEER
AIDA64 has a set of several 64-bit benchmarks to measure how fast the computer performs various data processing tasks and mathematical calculations. Multi-threaded memory and cache benchmarks are available to analyze system RAM bandwidth and latency. Benchmark pages of AIDA64 Extreme provide several methods to measure system performance. These benchmarks are synthetic, so their results show only the theoretical maximum performance of the system. The AIDA64 suite has various benchmarks for CPU, FPU, GPU, storage, and memory testing.
At completely stock settings, the Intel Core i9-10900k is 200 MHz faster than the stock Intel i9-9900k all core turbo (4.9 GHz vs 4.7 GHz). The additional cores help the i9-10900K stretch the lead over the 9900k however, with even more cores, the AMD Ryzen 9 3900x still leads the pack in the AIDA64 CPU and FPU tests.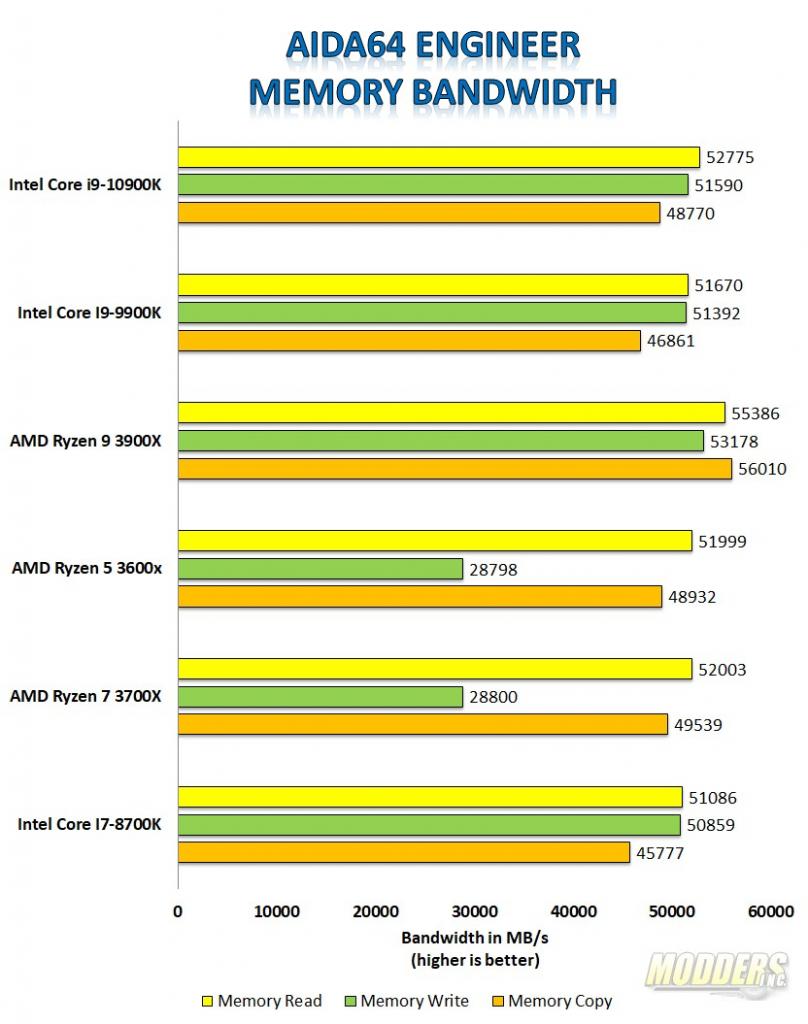 Memory bandwidth landed right where I expected. A slight increase over the 9900k due to speed and core count. While officially the i9-10900k supports up to DDR4 2933, Intel's XMP profiles push memory speeds even further.