« Page 6
|
Page 8 »
No overclocking, just want silence!!!!
Included in the kit are some bitsies that you should be aware of if you are a freak for quiet. Below you see a "Y" adapter, in the event that you have to run both fans from a single connection, but next to that (the black caps and the blue caps) are the two down shifting adapters that will reduce the electrical flow, termed "L.N.A adapter", and "U.L.N.A. adapter". The LNA drops the RPM of the fan it is attached to from 1200RPM to 900RPM. The ULNA takes the 1200RPM and drops it to 750RPM. So, an already quiet fan is made *even quieter* if uber thermal performance is not your concern.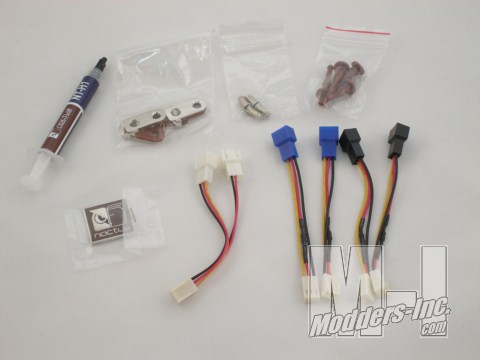 You want a heat sink that will lay a beat down on heat? or do you want a heat sink that will quietly wick away the warm stuff from your CPU? This heat sink will do both!
Continuing with the included bitsies, this heat sink is compatible with pretty much any modern processor: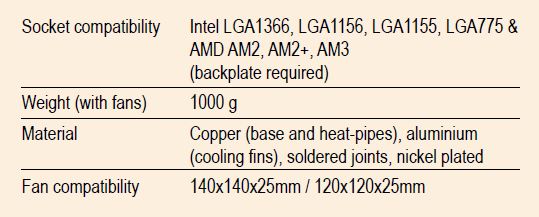 It also contains a tube of their highly regarded TIM, NT-H1, that requires no curing or setup. And, "Yep!", that's 1000g folks. This thing ain't a wallflower! It comes with a custom bracket that fits on the back of the motherboard, underneath the socket. Once mounted, it is very stable and secure.