CPU Cooler
Silverstone Argon AR06 CPU Cooler Review: Prioritizing Silence
« Introduction and Specifications
|
Installation Procedure and Clearance Compatibility »
A Closer Look at the Silverstone Argon AR06

The Silverstone Argon AR06 measures 105mm x 92mm and stands 58mm tall with the fan 92mm installed. The fan bundled has a slim frame of only 15mm so if this was replaced with a standard 25mm thick fan, the total height will be 68mm.
The contact surface has four flattened direct contact copper heatpipes with a 1.15mm gap in between them. Total contact surface area measures 34.5 x36.10mm. The heatpipes are 6mm in diameter and curve to form a "C" shape all on one side, distributing to the 52-fin aluminum array. There is no gap between the solid aluminum primary stage holding the direct contact heatpipes and where the aluminum array begins.
The fan is secured via four Phillips counter-sunk screws and the metal fan mounting mechanism can be removed from the heatsink body as well by undoing two pairs of Phillips round-head screws on each side. The counter-sunk screws included can only be used for a slim 15mm thick 92mm fan. Users would have to provide their own longer screws if installing a regular 25mm thick 92mm fan.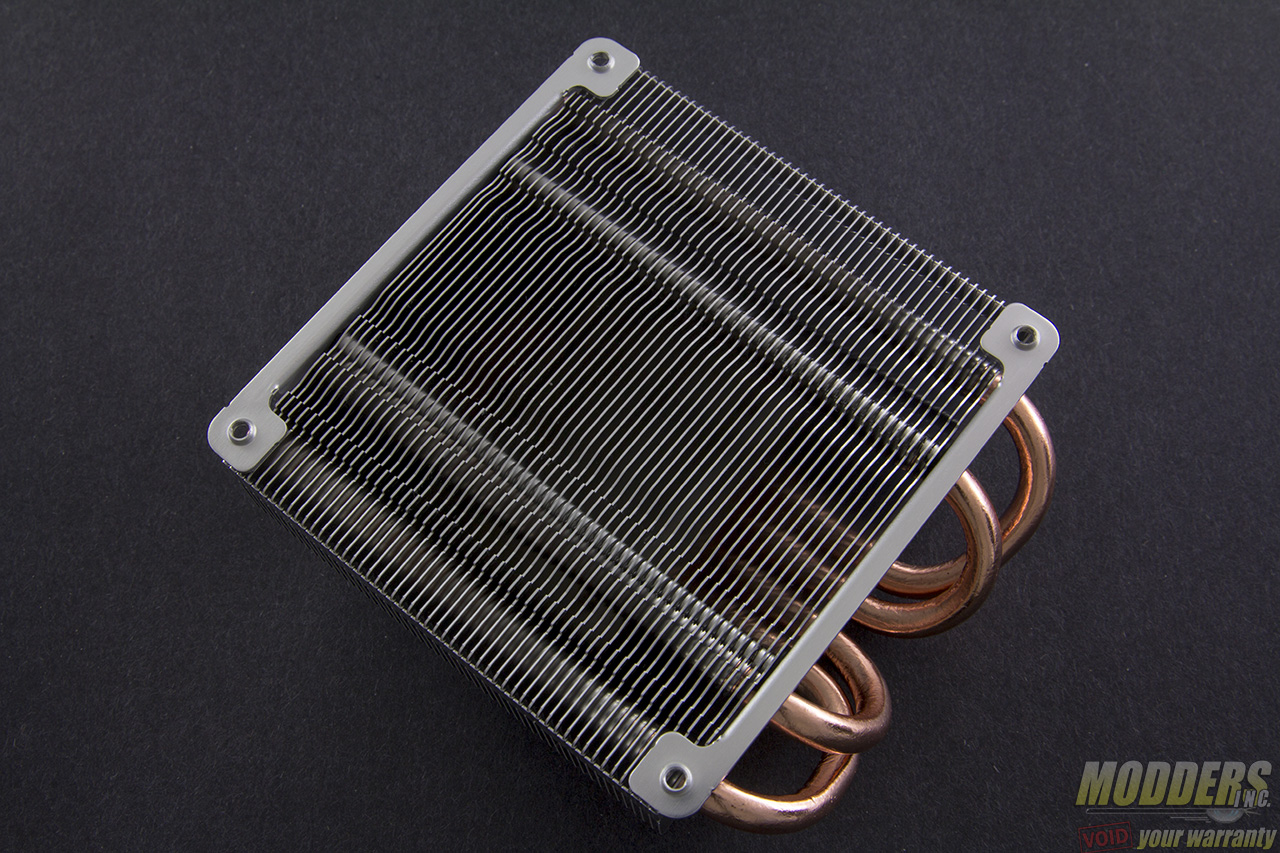 The bundled fan has the model number DF0921512RFMN and is a rifle-bearing 92mm fan with a lower profile 15mm thick frame. The center hub is relatively small, measuring 32.9mm with an eleven piece shallow curve blades. The struts are straight on the exhaust side and the connector cable is sleeved.
Readings from ASUS Fan Xpert II show the real-world controllable PWM range from ~1000 RPM to ~2200 RPM and verified with a hardware fan controller. This is lower than the stated specs from the Silverstone Argon AR06 product page of 1200 to 2500 RPM: