Page 2 »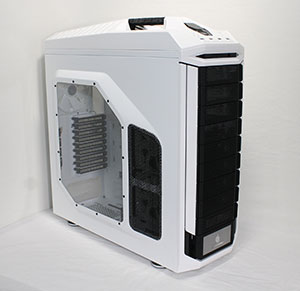 Built to be among the most agile full-towers, the CM Storm Stryker has a stylish glossy black and white finish on the case and included fans, windowed side panel, full dust filter coverage, a fan controller, an external SSD drive hot-swap dock and two uniquely designed modular hard drive cages. The CM Storm Stryker includes an ultra-strong travel-ready carrying handle.  All these features give CM Storm Stryker the ability to adapt to either a workstation or water-cooled gaming configurations with ease.
[sc:sponsor sponsor="Cooler Master" product_link="http://www.coolermaster-usa.com/product.php?product_id=3099&product_name=CM%20Storm%20Stryker" product_name="Cooler Master Storm Stryker" ]
The Calm Before the Storm

Outfitted in a informative black box that really works well against the contrast of the white case you get a great look at what the case looks like and details about the Strykers standout features.
 One of the things that most of us worry about more these days is how well the items we buy is packaged. Thanks to the internet we buy more and more stuff online, which in-turn means that the products we want have to travel more through the hands of the oh-so-nice speedy delivery guys. The CM Storm Stryker is well packaged and protected with Styrofoam and covered with a clear plastic bag.
Features:

Stylish black and white design with mesh front panel provides constant cooling

Top ultra-strong carrying handle with rubber coated

The unique 90 degree rotatable 5.25″/3.5″ Combo Cages offer flexibility for installation

Rich I/O support with two USB 3.0 super speed ports (int.) and 9+1 expansion slots for great expandability

The fan speed can be adjusted by top control panel

The internal tool box and Storm Guard secure gamers peripherals

Supports the latest long graphics cards, including AMD Radeon HD 7970 and NVIDIA GTX 690
Model
SGC-5000W-KWN1
Color
Black and White
Material
Appearance: Synthetic, Mesh front bezel; Case body: Steel
Dimension
250.0 x 605.6 x 578.5 mm / 9.8 x 23.8 x 22.8 inch
Weight
13.7 kg / 30.2 lb
M/B Type
Micro-ATX, ATX, XL-ATX
5.25″ Drive Bay
9
3.5″ Drive Bay
8 (converted from 5.25″ bays by 5.25″/3.5″ Combo Cages)
2.5″ Drive Bay
13 (converted from 5.25″ bays by 5.25″/3.5″ Combo Cages)
I/O Panel
USB 3.0 x 2 (internal), USB 2.0 x 2, Audio In and Out (supports HD Audio)
Expansion Slots
9+1
Cooling System
Front: 120mm LED fan x 2, 1200 RPM, 17 dBA

Top: 200mm fan x 1, 1000 RPM, 23 dBA (converted to 120/140mm fan x 2)

Rear: 140mm fan x 1, 1200 RPM, 19 dBA (converted to 120mm fan x 1)

Bottom: 120mm fan x 2 (optional)

Power Supply
ATX PS2 / EPS 12V
Maximum Compatibility
VGA card length: 322.0 mm / 12.7 inch
CPU cooler height: 186.0 mm / 7.3 inch
Warranty
2 years
UPC Code
884102017179