« Page 5 | Page 7 »
A Closer Look Continued – Deep Inside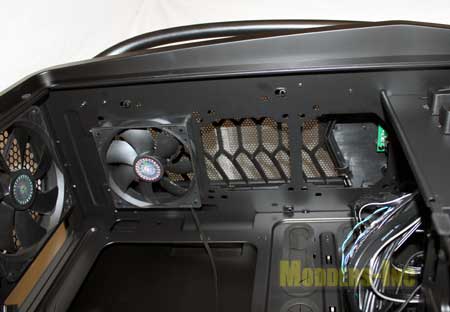 Looking up towards the top of the case we can see there is a whole lot of space here to do what ever you imagination can conjure up. A lonely 120mm cooling fans come installed for you, but why make it sit there all by itself. Two more 120mm fans can be install to create a huge amount of air to be sucked out. Now if you not into air cooling and more into water cooling well then you will like this. Cooler Master made sure that at least a 240mm radiator can be installed and I have heard that some have had luck stuffing a 360mm radiator into the space, but it might be on the top side.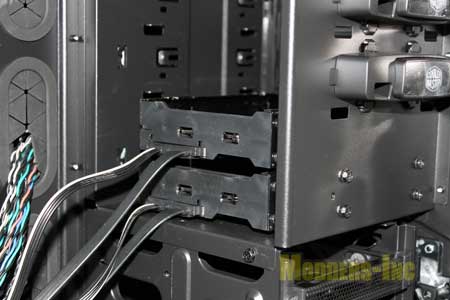 Hot swaps for smaller drive are pre-installed for you and are sitting at the lower part of the drive cage. As you remember the front doors to theses do have a lock and key to keep them safe. Just above the hot swaps is space for adding three 5.25 devices with quick and ease retention devices.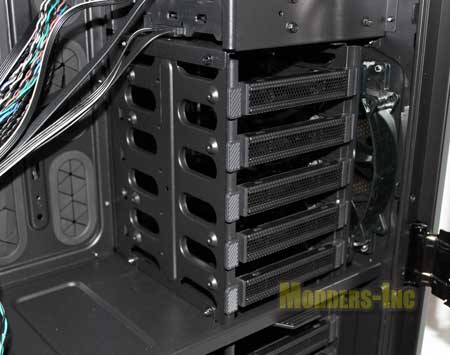 Five drive bays are here for you enjoyment and pleasure, but NO you do what you drives here! You would rather do something else with but you stuck this it here….NOT! By removing just a few screws you can removed the left side (face towards us in the image) of the case and you now have all that space- to the other bracket- to do whatever you want, like maybe a water pump and reservoir or maybe that mini-ITX board. So now that you have that idea flowing around in your head.. but here will you put your fist load of terabytes hard drives… read on.
200mm fan has been place here to help keep your drives cool.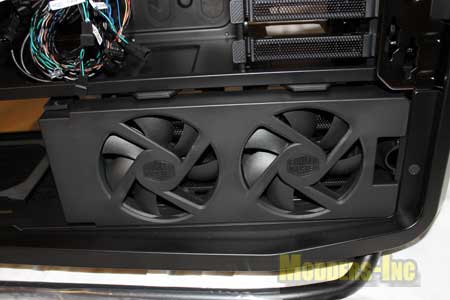 Oh, look more fans but why here?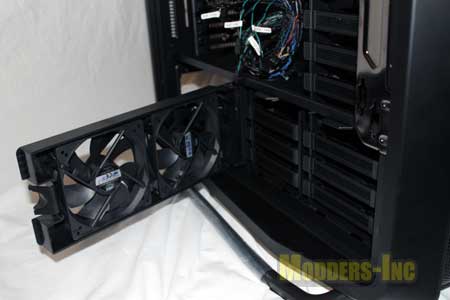 Thats because behind this bank of fans, that are on a hinge, you get even more hard drive space! Lets see so far that is, 1,2,3,4,5 plus six more…. carry the one, divide by 3, wheres that damn calculator. OK that is a total of 11 places to slide in your drives and if you include the hot swaps that is 13! What you do not want the lower hard drive storage are and you think it is a big waste, Think Again. Like the hard drive cage above it can be taken apart and you gain all the massive space to…hmm place all your water cooling stuff here like a pump, res our how about a radiator. Me I would think about adding that mini-ITX board…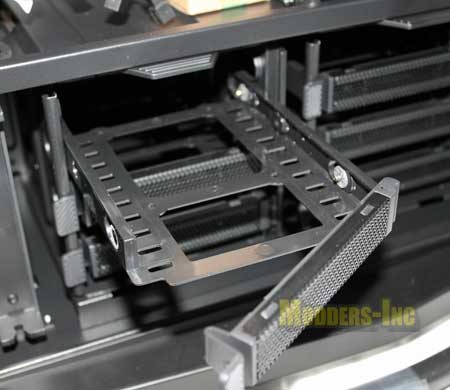 Cooler Master makes it so easy to install your drives is is just silly. The caddy is made of a flexible plastic that can be bent just enough to allow you pop in your drive where the anchors are and it magically wraps itself around the drive. Slide it back in and use the lever/latch to keep it in place.