Motherboard Reviews
ASUS ROG Strix B550-I Gaming Motherboard Review
Judge me by my size, do you?
« Introduction
|
A Closer Look Continued »
A Closer Look at the ROG STRIX B550-I Gaming Motherboard
As mentioned earlier, the Strix B550-I is a mini ITX form factor motherboard and measures in at only 6.7 inches x 6.7 inches and features two slots for memory modules, one PCIe slot for a graphics card, and four SATA 6 GB/s ports.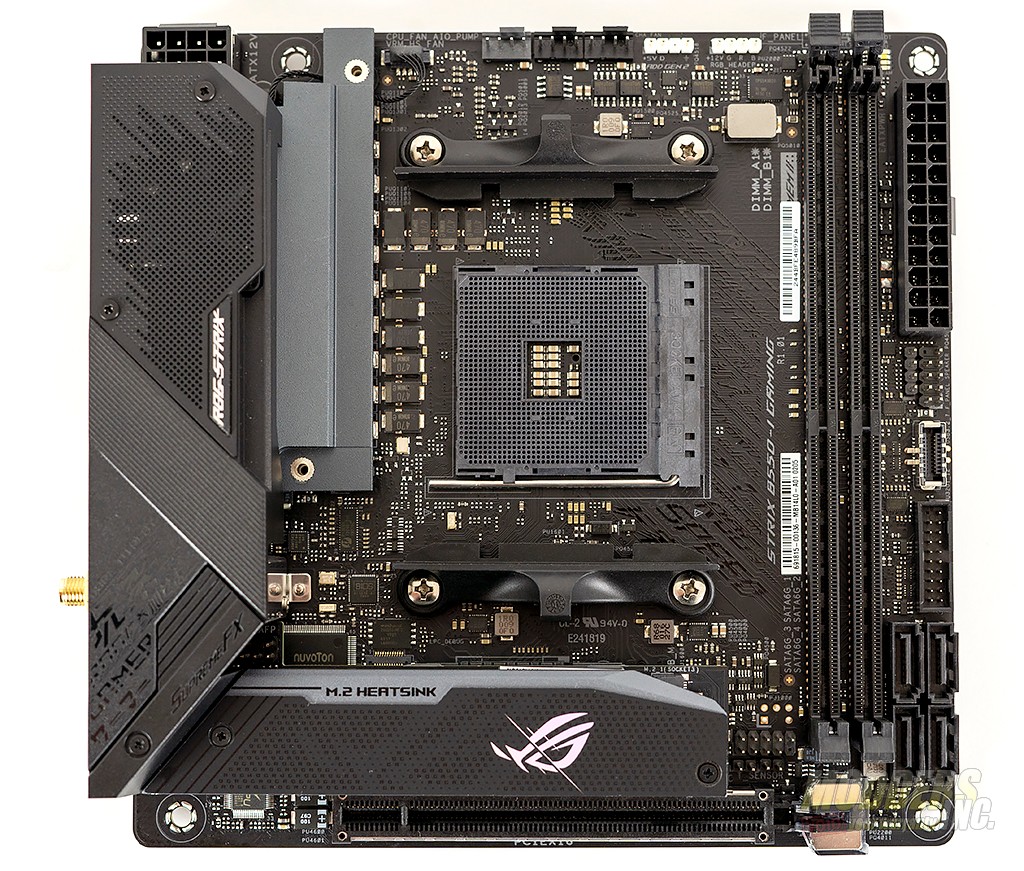 The right side of the motherboard features the four SATA 6 GB/s ports, USB 3.2 Gen 1 connector, USB 3.2 gen 1 type C connector,   front panel connectors, and the 24-pin power connector.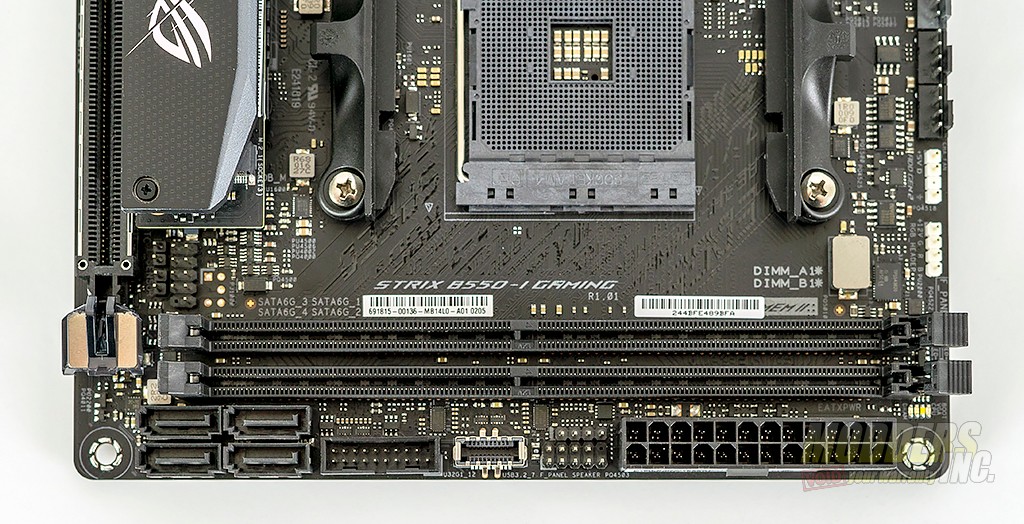 At the top edge of the motherboard, you'll find the 8-pin CPU power connector, 3 4-pin fan/pump connectors, and an addressable RGB header as well as a 4-pin non-addressable RGB header. Hidden under the rightmost memory slot locking tab is the Q-LEDs.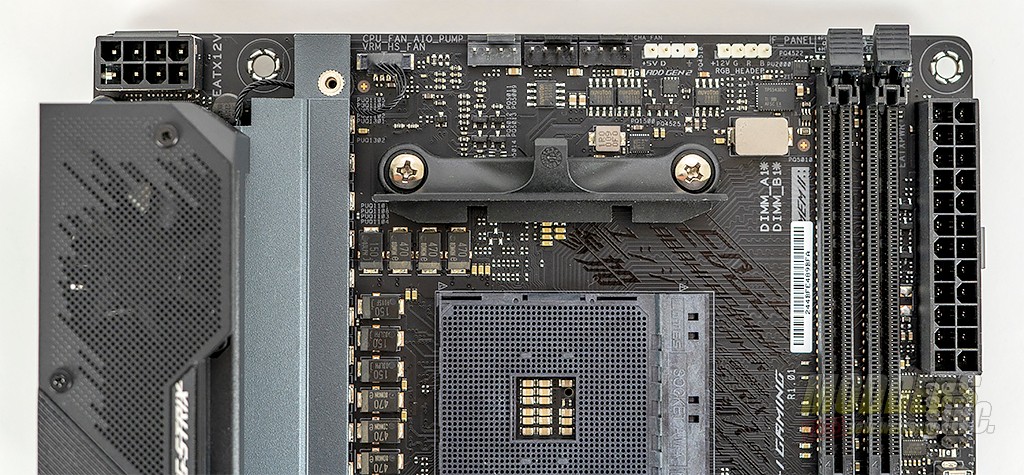 The bottom edge of the Strix B550-I motherboard features the PCIe x16 slot and the M.2 heatsink.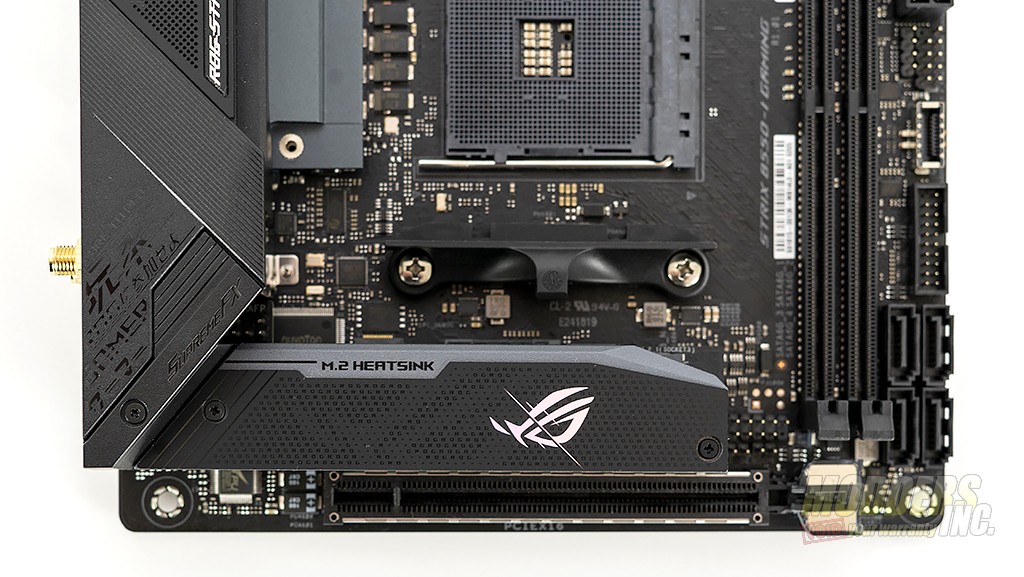 The rear I/O includes a Display port and HDMI port for AMD APUs. A single USB 2.0 port comes next. The BIOS FlashBack button sits just to the right of the USB 2.0 ports. A pair of USB 3.2 Gen2 ports come up next followed by another USB 3.2 Gen 2 port, the Intel I225-V 2.5 Gb ethernet port, and a USB 3.2 Gen2 Type C port.  The wireless antenna connectors follow. The audio ports are next. Once the board is powered on, the audio ports are illuminated by LEDs and glow blue, green, or red depending on the port type. Under the audio connectors is the Audio USB Type C connector for use with the USB C to 3.5mm cable included with the motherboard.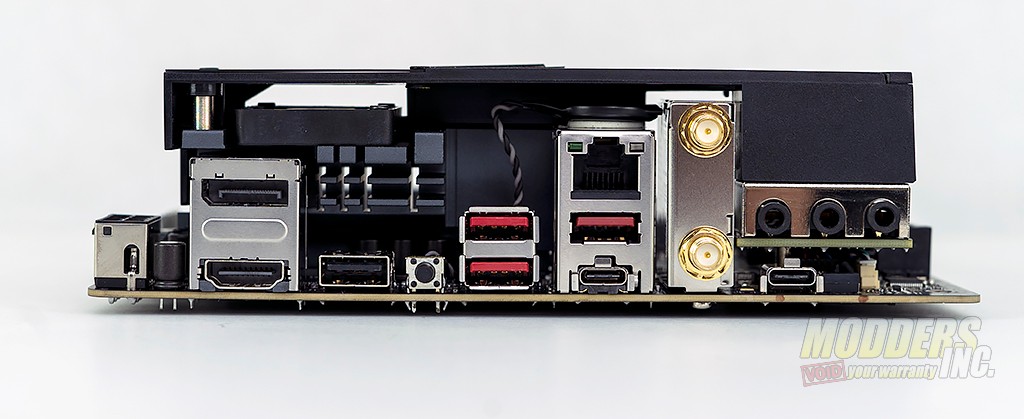 There are two M.2 slots on the Strix B550-I motherboard. One is located under the heatsink on the front of the motherboard and is 4 lanes of PCIe 4.0. The other is located on the back of the motherboard is 4 lanes of PCIe 3.0.
To access the front M.2 slot you'll need to remove the heatsink. This is done by removing the two screws in the heatsink. There is a thermal pad attached to the heatsink so make sure to remove it before completing the installation of the drive.