Motherboard Reviews
ASUS ROG Strix B550-I Gaming Motherboard Review
Judge me by my size, do you?
« Software and Features
|
ASUS ROG Strix B550-I Gaming Performance Testing Continued »
Test System and Synthetic Benchmarks
Currently, I have two AMD motherboards in my stable, the ASRock X570 Taichi and the Asus ROG Strix B550-I Gaming. While I am pitting them against each other for performance comparisons, I am doing it to show little or no loss in performance across the two platforms.
One thing that I am leery of is the way the motherboard handle the boost clocks on the CPUs. At the launch of the Ryzen 3900x I ran into an issue with the Aorus X570 motherboard that didn't allow the CPU to boost and maintain it's boost clocks whereas the X570 Taichi motherboard did. So, for every AMD review, I run a single-core test in POV-Ray and capture the clock speeds for 60 seconds to verify the motherboard and CPU can hit the advertised speeds.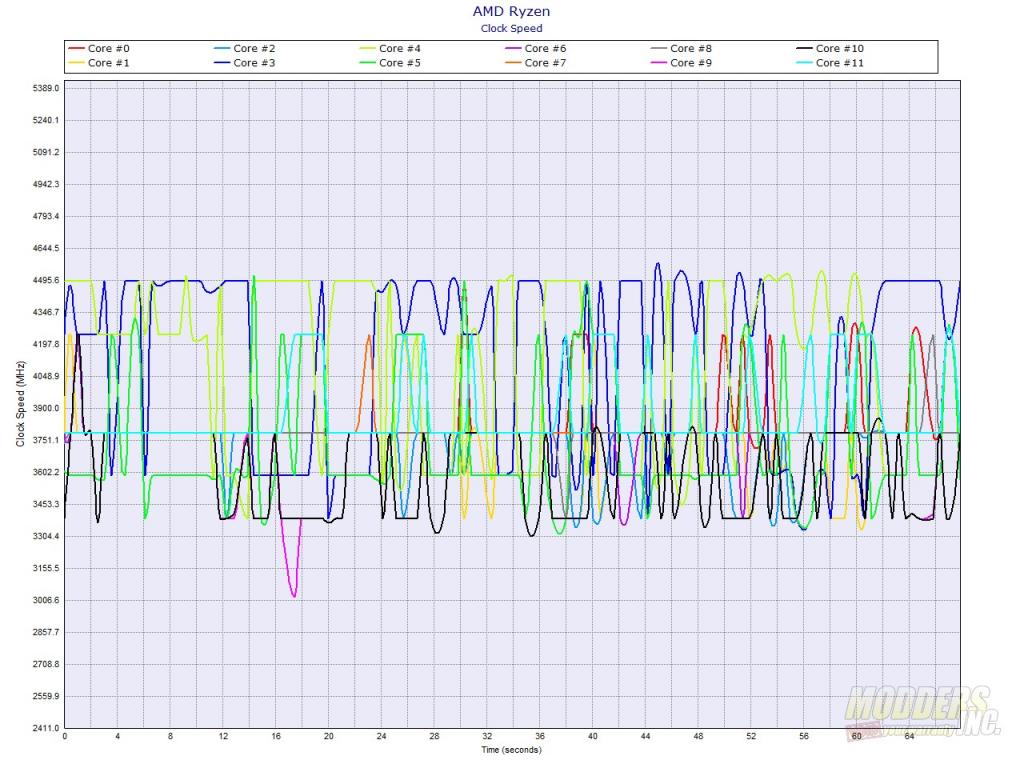 As you can see, the frequency jumps around as the load switches cores. However, you can see nice flat peeks at 4495 Mhz as well as boosting just above to around 4600 Mhz but doesn't stay there for very long.
Testing and Performance
AIDA64 ENGINEER
AIDA64 has a set of several 64-bit benchmarks to measure how fast the computer performs various data processing tasks and mathematical calculations. Multi-threaded memory and cache benchmarks are available to analyze system RAM bandwidth and latency. Benchmark pages of AIDA64 Extreme provide several methods to measure system performance. These benchmarks are synthetic, so their results show only the theoretical maximum performance of the system. The AIDA64 suite has various benchmarks for CPU, FPU, GPU, storage, and memory testing.
In the Aida64 CPU and FPU tests, the ROG Strix B550-I matched the ASRock x570 step for step, and the only differences in performance fall within the margin of error. Again, I wouldn't expect AMD to purposely hinder their CPUs, especially the top end CPUs, just because you didn't purchase the more expensive X570 based motherboard.
Memory bandwidth is a whole different story. I tested and retested and got the same result with the same RAM in each motherboard. I'd be willing to account for the differences in performance because AIDA wasn't updated to the latest version and the fact that the memory I was using wasn't on the qualified memory list when I ran this test. I'm currently waiting for some additional faster RAM to arrive and I want to compare at speeds above DDR4 3200.